> Home > >
00 - Ciclo di affreschi del chiostro maggiore sulla vita di San Benedetto
Asciano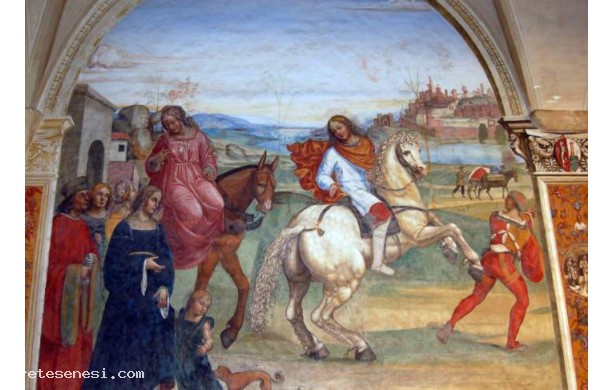 Year: 1505-1508
Current location: Abbazia di Monte Oliveto Maggiore
Original location: Abbazia di Monte Oliveto Maggiore

DESCRIPTIVE INFORMATION
The cycle of frescoes covering the walls of the cloister were first initiated by Signorelli and Sodoma completed at a later date. It is not known until today, the reason why the Signorelli has abandoned in the mid quet'opera great. Is assumed to be the case with orders to seize the opportunity to perhaps the most prestigious and better paid. The frescoes attributed to Sodom were made ​​over three years and are considered the ultimate expression of the artist's mature pictorial. The assignment was given by the monks Olivetani after he had painted on their behalf, among them 1503 and 1504, the refectory of the monastery of Sant'Anna in Camprena. These frescoes (20) are indicated as the first cycle because the first concern of the life of St. Benedict. The exception is the twenty-first fresco is placed at the end of the story with the delivery of virtual rules Benedictine order Olivetano to the founding fathers.
00 - Ciclo di affreschi del chiostro maggiore sulla vita di San Benedetto