ALCHERMES
Abbazia di Monte oliveto
LIQUORI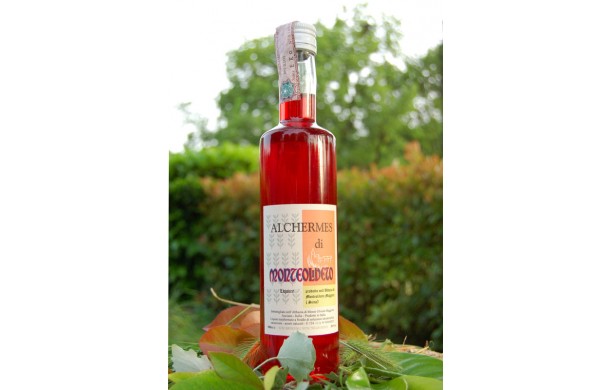 Alchermes
LIQUORI
Producer:
Abbazia di Monte oliveto
Packaging:
bottiglia vetro
Price for a lt:
€ 27,80
Quantity:
0.5 l
Price: € 13,90
Shipping: worldwide (contact us for USA shipping)

Payments: Bank transfert or Credit Card (Visa and MasterCard)

For more information about our e-commerce please read our terms of sale
Di sapore dolce, estremamente delicato, si presenta di un colore rosso vivo, riportando sulla tavola un antico sapore.
Vol. 28%

Particolarmente indicato è il suo uso nella preparazione di dolci, oppure servito a temperatura di cantina come dessert o utilizzato per arricchire macedonie di frutta. Se unito ad uno yogurt magro diviene un ottimo dissetante.

Il nome arabo significa cocciniglia e che è utile a indicare il color cremisi , il cui termine deriva anch'esso dalla stessa parola

The Abbey of Monte Oliveto in addition to masterpieces of painting and inlay is surrounded by a large area where they intersect woods, olive groves, ravines and farmland. During these centuries, the work of the monks, the sharecroppers, workers has changed a lot this place. Today this clay produces wine (about 10 hectares of vineyards), durum wheat, barley, field beans and oil (about 5,000 olive trees). All this labor is realized in collaboration with monks and lay workers. Another feature of the work is distilled products in the Abbey. Old recipes that have been handed down for centuries from Monaco in Monaco, are used to distill tasty spirits that help the human body to overcome some of its difficulties facing the dizzying life today.

Vino IGT Bianco
Fattoria Abbazia Monte Oliveto


All' Abbazia appartiene una lunga tradizione di produzione del vino. Il Bianco di Mo... Dettagli >

Cesto Grande - Misto Agrodolce
Cretesenesi.com


A selection of handmade products strictly from the heart of the Crete Senesi. Aromas ... Dettagli >

Grappa Antico Colle
Az. Agr. Antico Colle


ALCOHOLIC CONTENT: 42 % Vol.... Dettagli >

Panpepato
Il Forno delle crete


Il panpepato è una speciale variante del panforte , di consistenza dura &egrav... Dettagli >