> Home > Products > Pane, pasta e dolciumi
CANTUCCI
Il Forno delle crete
PANE, PASTA E DOLCIUMI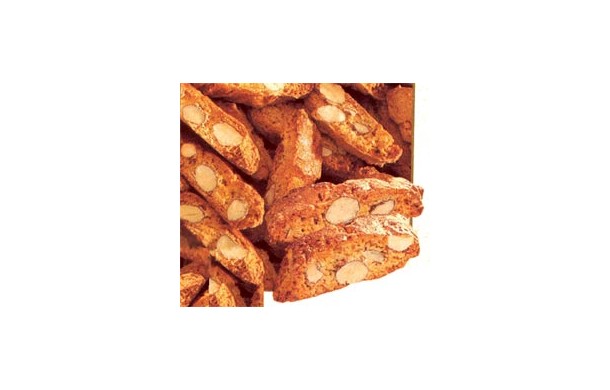 Cantucci
PANE, PASTA E DOLCIUMI
Producer:
Il Forno delle crete
Packaging:
Incartato
Price for a kg:
€ 18,60
Weight:
500 g
Price: € 9,30
Shipping: worldwide (contact us for USA shipping)

Payments: Bank transfert or Credit Card (Visa and MasterCard)

For more information about our e-commerce please read our terms of sale
L'impasto è composto esclusivamente da farina, zucchero, uova, mandorle e pinoli. Le mandorle non vengono né tostate né spellate. Non si usa nessun tipo di lievito né di grassi (burro, olio, latte).


CONSERVATION: Luogo fresco

Mangiarli inzuppandoli in un bicchierino di buon vin santo.

La nascita dei Cantucci risale all'inizio del secolo scorso. Furono inventati dal pasticcere Mattonella che aveva il suo laboratorio e negozio vicino al Duomo di Prato. Infatti il nome originale è: "Biscottini di Mattonella".

Per visitare direttamente il nostro laboratorio artigianale e gustare le nostre specialità venite a trovarci ad Asciano, un ottima occasione per visitare le Crete Senesi e gustare le nostre specialità. La nostra attività è oggi famosa in tutta la Toscana grazie soprattutto alla produzione del pregiato Panpepato Giardi. Le nostre mani esperte si adoperano ogni giorno per offrire la più ampia varietà di assortimento e la migliore qualità, garantendo freschezza e genuinità ai nostri prodotti. Troverete non solo pane Toscano ma anche Pugliese, di soia, di farina di cereali e integrale. Ottima la pasticceria che conta una svariata quantità di paste e pasticcini e altrettanto gustose le torte, le crostate e i tanti altri dolci sempre freschissimi che potete acquistare anche su prenotazione. Durante il periodo natalizio e pasquale troverete i dolci tipici. Il forno è aperto tutti i giorni eccetto la domenica e il mercoledì pomeriggio.

ERGO SUM - VinSanto del Chianti DOC
Castello di Modanella


Colore oro brillante, profumo intenso, persistente e complesso con spiccato sentore d... Dettagli >

Cacciaconte
Caseificio La Fonte di Pace


The result of several years research and selection on this milk pecorino is produced ... Dettagli >

Olio al Tartufo, 250 ML
Le Gioie di Gabri


Condimento aromatizzato al tartufo bianco a base di olio extra vergine di oliva... Dettagli >

Aceto balsamico al tartufo delle Crete
Le Gioie di Gabri

Balsamic Vinegar of Modena summer black truffle of the Crete Senesi.... Dettagli >