> Home > Products > Confezioni regalo
CESTO GRANDE - MISTO AGRODOLCE
Cretesenesi.com
CONFEZIONI REGALO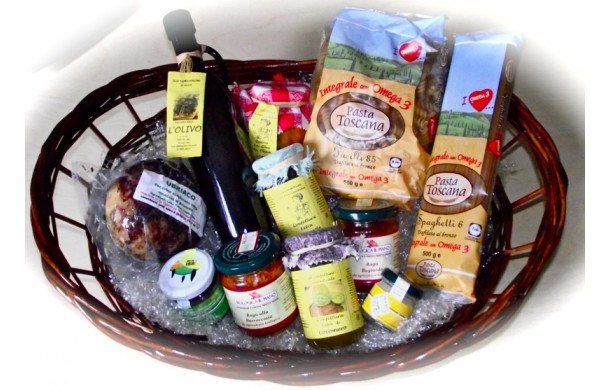 Cesto Grande - Misto Agrodolce
CONFEZIONI REGALO
Producer:
Cretesenesi.com
Price for a hg:
€ 0,00
Price: € 75,00
Shipping: worldwide (contact us for USA shipping)

Payments: Bank transfert or Credit Card (Visa and MasterCard)

For more information about our e-commerce please read our terms of sale
A selection of handmade products strictly from the heart of the Crete Senesi. Aromas and flavors of sweet and sour that collect the most authentic essence of this land, distilled from the work of skilled artisans and small producers.

Composition of the basket
Drunken pecorino cheese in grape of Brunello (600 g), 2 boxes of Pasta Tuscany integral with omega 3 (500 g), 1 jar of white truffle cream (30 g), 1 jar of truffle pate scorzone (75 g), 1 jar of sauce carter (180 g), 1 jar of sauce liar (ragout of vegetables, 180 g), a jar of pumpkin oil, 1 jar of strawberry jam, 1 jar of watermelon jam, 1 bottle of new oil (0.5 l)

Tutti prodotti assolutamente da gustare nella loro genuina purezza, dai sughi per la pasta , alle creme tartufate, perfette e incredibilmente delicate sia come condimento di un primo piatto che come salsa per crostini .

L'assortimento è arricchito da formaggio di primissima qualità e originali confetture tipiche della tradizione contadina. Accompagna la ricca offerta una bottiglia di olio nuovo, per godersi il frizzante carattere della fett'unta toscana.

Tutti i prodotti della confezione nascono da lavorazioni artigianali di materie prime di altissima qualità.
La provenienza di ogni articolo è riconducibile ad aziende agricole e laboratori artigiani di una zona specifica e delimitata del senese, ovvero la zona sud-est della provincia, nel cuore delle crete senesi.

Dettaglio delle aziende produttrici
Caseificio artigianale della Società Agricola Vergelle, Pastificio Fabianelli, Azienda Agricola Biologica Mencarelli Gianluca, Cooperativa Il Tartufo delle Crete Senesi

The baskets were made ​​by CreteSenesi.com, who has carefully selected natural and organic products, highly typical of the area. Each item comes directly from local farms, offering consumers the excellence of a land to discover and enjoy.

Miele Millefiori
Azienda Agricola Montecaci


Ottimo miele millefiori in confezione grande da 1000 gr ottenuto dai pascoli delle co... Dettagli >

Olio al Tartufo, 250 ML
Le Gioie di Gabri


Condimento aromatizzato al tartufo bianco a base di olio extra vergine di oliva... Dettagli >

China
Abbazia di Monte oliveto


" L' aperitivo di Monteoliveto" La china è una pianta straordinaria... Dettagli >

Tartufata
Le Gioie di Gabri


Gustosa salsa a base di tartufo delle crete senesi.... Dettagli >