> Home > Books and guides > Libri Costume
IL CIELO SOPRA LE TERRE DI SIENA - 158 FOTOGRAFIE AEREE RACCONTANO LA STORIA E L'AMBIENTE

Autori Vari (AA VV)
LIBRI COSTUME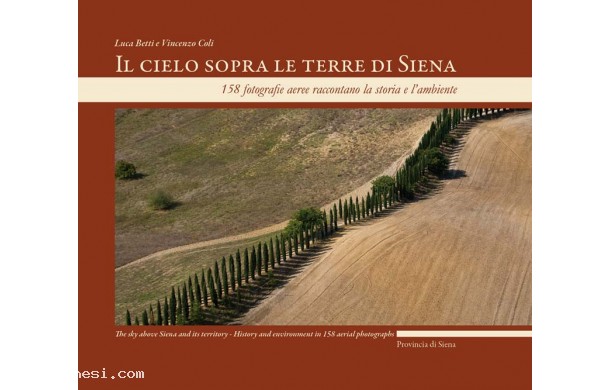 Il cielo sopra le terre di Siena - 158 fotografie aeree raccontano la storia e l'ambiente
LIBRI COSTUME
author:
Autori Vari (AA VV)
Packaging:
Betti Editrice
Language:
Italiana
Pages:
176
ISBN:
978 88 7576 12
Price: € 30,00
Shipping: worldwide (contact us for USA shipping)

Payments: Bank transfert or Credit Card (Visa and MasterCard)

For more information about our e-commerce please read our terms of sale
Un punto di vista del tutto inedito. Le Terre di Siena viste dall'alto, molto dall'alto. Esattamente, dai mille piedi di altezza che sono lo standard consentito dalla legge per scattare istantanee. Perché è questa la particolarità di una pubblicazione dal titolo vagamente wendersiano ma, pagina dopo pagina, concretamente legata al paesaggio che fa parte del vissuto di tutti noi. "Il cielo sopra le terre di Siena" raccoglie 158 foto per raccontare questi luoghi come nessuno aveva fatto riuscendo, in questo modo, a regalare particolari e sfumature impercettibili "dal basso".
Siena al volo - La forma della città
Roberto Barzanti


Questa preziosa pubblicazione racconta per immagini, attraverso una vivace impaginazi... Dettagli >

Pallium IV Il drappellone verso il XXI secolo
Luca Betti


L'evoluzione del drappellone del Palio di Siena verso il XXI secolo, con riprod... Dettagli >

Famiglie, Località, Istituzioni di Siena e del suo territorio
Maria Ilari


Il "richiamo alle origini" della propria famiglia, della propria citt&agr... Dettagli >