> Home > Books and guides > Guide turistico/territoriali
DER PALIO FUHRER

Patrizia Ciocchi. Armando Santini, Senio Sensi e Luca Betti
GUIDE TURISTICO/TERRITORIALI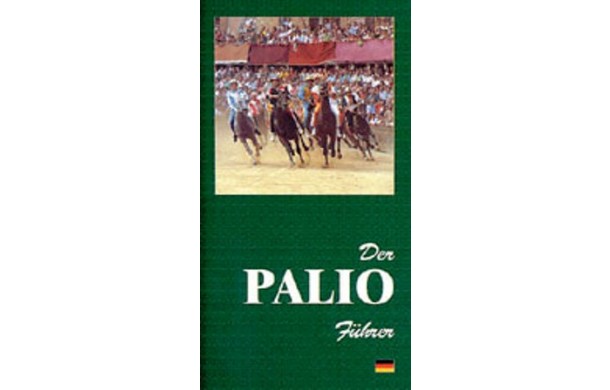 Der Palio Fuhrer
GUIDE TURISTICO/TERRITORIALI
author:
Patrizia Ciocchi. Armando Santini, Senio Sensi e Luca Betti
Packaging:
Betti Editrice
Language:
Tedesca
Pages:
96
ISBN:
978 88 86417 14 4
Price: € 10,00
Shipping: worldwide (contact us for USA shipping)

Payments: Bank transfert or Credit Card (Visa and MasterCard)

For more information about our e-commerce please read our terms of sale
Il Palio di Siena ha quasi mille anni, e la sua storia si confonde e si intreccia con quella della Città stessa. Una Festa che racchiude in sé emozioni e tradizioni bellissime, ma forse troppo spesso difficili da comprendere nel suo intero significato. Lo scopo di questa guida, interamente realizzata da senesi, è di servire da pratico strumento per il turista che giunge a Siena nei giorni "caldi" che precedono il 2 Luglio e il 16 Agosto. Una guida che ha la pretesa di offrire, oltre a utili notizie e belle immagini, una precisa chiava di lettura per assaporare completamente la Festa di Siena.
Dalla scuola di Siena al deserto di Accona - Artisti per San Bernardo
Gilberto Madioni


Venticinque artisti, tra pittori e scultori, in mostra per rendere omaggio alla figur... Dettagli >

Flug uber Siena
Roberto Barzanti


Questa preziosa pubblicazione racconta per immagini, attraverso una vivace impaginazi... Dettagli >

TOSCANA IN MTB. Volume II
Sergio Grillo e Cinzia Pezzani


"Sali quel colle, scendi quel monte e troverai Siena di fronte" Questo det... Dettagli >