FLORA
Abbazia di Monte oliveto
LIQUORI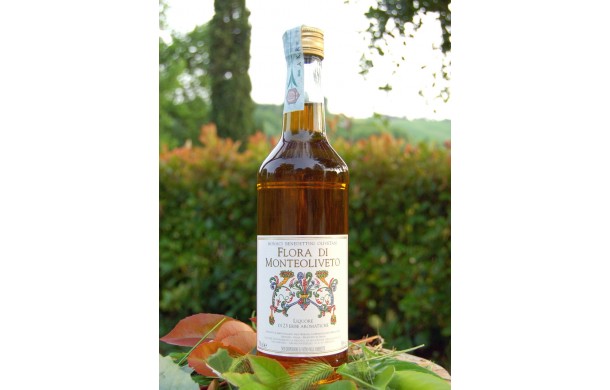 Flora
LIQUORI
Producer:
Abbazia di Monte oliveto
Packaging:
Bottiglia vetro
Price for a lt:
€ 21,33
Quantity:
0.75 l
Price: € 16,00
Shipping: worldwide (contact us for USA shipping)

Payments: Bank transfert or Credit Card (Visa and MasterCard)

For more information about our e-commerce please read our terms of sale
Questo liquore è preparato conme un infusione di 23 erbe; invecchiata per più di 6 mesi.


INGREDIENTS: Infuso alcolico di 23 erbe

Tonico, corroborante e in particolar modo consigliato dopo il pranzo, unendo al sapore squisito e al profumo delizioso, virtù digestive di indiscusso valore.

I monaci producono un liquore preparato secondo una ricetta dell'antica farmacia dell'Abbazia: La Flora di Monteoliveto.

The Abbey of Monte Oliveto in addition to masterpieces of painting and inlay is surrounded by a large area where they intersect woods, olive groves, ravines and farmland. During these centuries, the work of the monks, the sharecroppers, workers has changed a lot this place. Today this clay produces wine (about 10 hectares of vineyards), durum wheat, barley, field beans and oil (about 5,000 olive trees). All this labor is realized in collaboration with monks and lay workers. Another feature of the work is distilled products in the Abbey. Old recipes that have been handed down for centuries from Monaco in Monaco, are used to distill tasty spirits that help the human body to overcome some of its difficulties facing the dizzying life today.

Miele Millefiori
Azienda Agricola Montecaci


Miele millefiori in confezione da 500 gr ottenuto dai pascoli delle colline senesi, d... Dettagli >

Cacio alle Vinacce
Caseificio La Fonte di Pace


Il Casieficio La Fonte garantisce la qualità e la genuinità dei suoi Pe... Dettagli >

GRAPPA DI CANAIOLO
Castello di Modanella

Di colore bianco trasparente, il profumo è delicato ed allo stesso tempo ampio... Dettagli >

Cantucci
Il Forno delle crete


L'impasto è composto esclusivamente da farina, zucchero, uova, mandorle e pino... Dettagli >