> Home > >
009 Tarsia pavimentale della navata sinistra - Sibilla Samia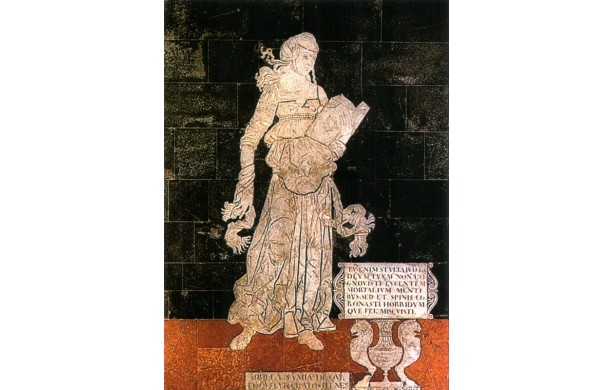 Artist: Matteo di Giovanni
Year: 1483
Current location: Cattedrale di Santa Maria Assunta
Original location: Cattedrale di Santa Maria Assunta

DESCRIPTIVE INFORMATION
This sibyl of Samos had his main residence, although he was born in Troy, to give us her account was Eratosthenes. Signed by Matteo di Giovanni, is dated on the support table 1483. Depicted as a princess slender, with drapes and ribbons fluttering hair, holding in his left hand an open volume, richly bound. Suddenly curious and characteristic of the work of Matthew clearly emerges in the lovely cherub head with wings that closes a belt around her dress below the hips. The table next to her, held up by two lion-headed figures, contains the text: you enim stulta iudaea deum tuum not cognovisti lucentem Mortalium mentibus sed et spinis crowned orridum this fel miscuisti ("Thou, foolish Jew, you did not recognize your God, shining in the minds of men. But hast crowned him with thorns and have paid for him the bitter gall "), a reference to the skepticism of the Jews to recognize the Christ.
009 Tarsia pavimentale della navata sinistra - Sibilla Samia