> Home > What to visit > Palaces and Monuments
Ex Convento di San Francesco
Asciano
PALACES AND MONUMENTS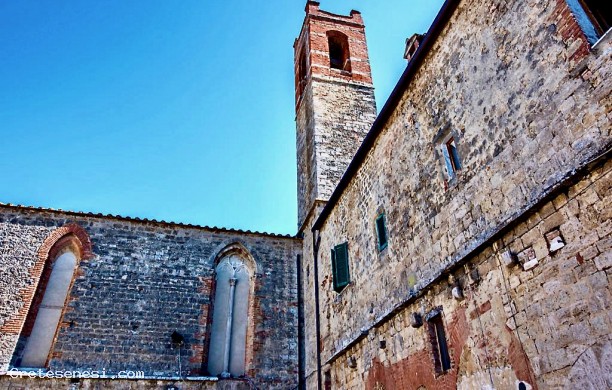 PHONE NUMBERS AND TIMES

Ex Convento di San Francesco


Business card (vCard)
Its construction on the ruins of an old castle seems to date back to the early 14th century, which is confirmed by donations from wealthy local families. Standing to the right of the church of San Lorenzo, it is built mainly from travertine, and that assured its stability through the following centuries. The Franciscans who lived there must have had a special relationship with the Tolomei family, whose coat of arms is reproduced all over the place. After Napoleon suppressed religious orders in 1808, the structure fell into decadence and underwent great modifications by its inhabitants.
The local French settlement has certainly begun after Francesco d'Assisi's visit to the city of Siena and his hasty return to Umbria for the first signs of illness that, fourteen years later in 1226, would have led him to death.

In fact, on his return journey, the saint surely passed by Asciano, before Sinalunga and Foiano, and perhaps stopped in one of Asciano's many hospitals. It seems that the Franciscan Friars Minor, before building the mighty convent, have built up the church in the dimensions that we know today.

The convent, heavily damaged by its transformation into homes after the Napoleonic edifices, had a simple but mighty structure, built around a single cloister with a large back building. The building had a large dormitory for the friars and a majestic Capitol Room on the first floor.

Surprisingly the hall features, which even had soundproof walls, constructed of small jibs placed horizontally on one another. The orcs had been produced with a slightly crushed wall so that they could overlap and prevent the outside of the room from being able to understand what was said inside. One of these small crushed orcs, which testifies as described, was found by an inhabitant of the former convent following a partial demolition inside his home.
STAY

NEARBY
DINING & ENTERTAINMENT

NEARBY