> Home > >
La Via Crucis - introduzione
Asciano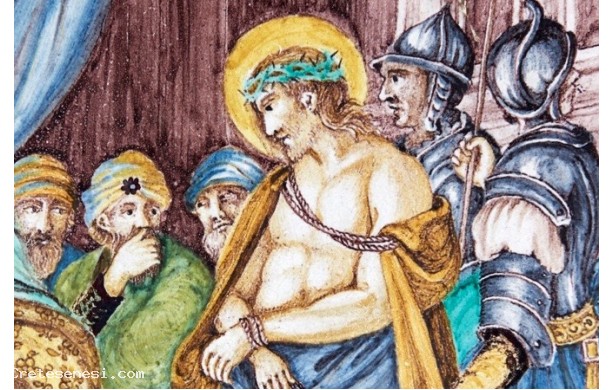 Artist: Francesco Francini
Year: 1790
Current location: Basilica Millenaria di S.Agata
Original location: Basilica Millenaria di S.Agata

DESCRIPTIVE INFORMATION

Via Crucis for today's man
Man is a land that suffers.
His life runs all the way from the first cry of pain that surrounds him to his birth and the last breathless breath that delivers him to eternity.
The path of man is a mystery of pain, it is the mystery of the Cross.
And there are no alternatives: either under the cross, enslaved, crushed and shattered or on the cross, free, true man, victorious and joyful in God's rest.
__________________________________________________
The Tiles and their author: Francesco Francini
Caesar, born in the second half of the seventeenth century, was the forefather of the Francini dynasty, excellent craftsmen-artists belonging to the category of numerous potters. of Asciano. Caesar had two sons who were sent to the art of potters, but with a different professional path: while Antonio moved to Siena, where he took over a furnace in Camollia from the Chigi Zondadari family, Giuseppe, born in 1725, continued to operate in Asciano with the father, becoming a highly appreciated artisan. Production workshop allowed to receive commissions from all over Tuscany and beyond. While his father Joseph continued to produce quality shards, his son Francis became a fine decorator, so much so that in 1776 he was given the task of making the panels of the Via Crucis destined for the church of San Salvatore in Castelnuovo Val di Cecina. Evidently the level of this first work was that of guaranteeing an artist. In fact, in 1790 Francesco was entrusted with the construction of the Via Crucis for the Collegiate Church of Sant'Agata. At that time Francis had already become the owner of the workshop and of the family furnace, inheriting it in 1887, on the death of his father Joseph. On the third Via Crucis, signed by Francesco, no specific documents were found, but there are only generic indications. Unfortunately, they did not favor their correct usability. From this simple observation the idea of ​​an enlarged photographic reproduction was born, to allow everyone to appreciate its beauty and great pictorial value.
La Via Crucis - introduzione