> Home > What to visit > Fountains
La Pianella
Asciano
FOUNTAINS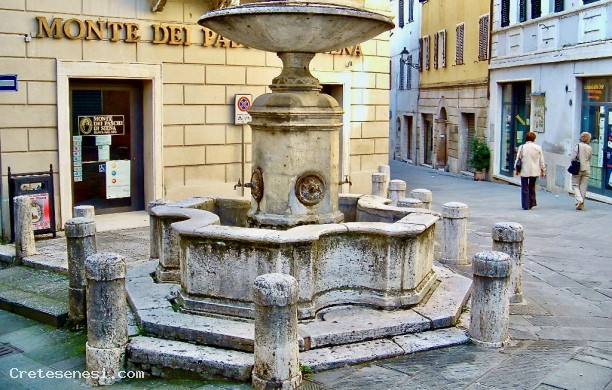 PHONE NUMBERS AND TIMES

La Pianella
Corso Giacomo Matteotti 53041 Asciano



Business card (vCard)
The current fountain is an embellished remake of the one already documented by Gherardini in 1676 and adopted as a coat of arms by the Nannini family. The reason for the adoption is that this family used the overflow water of Pianella to feed their dry cleaners, located in the underlying artisan district of Porticciola. Tintorie or Follature, as they were called in the past, which made the family fortune at least until the mid-nineteenth century.

Its first realization was linked to the fact that, right at that point, there was a consistent outcrop of spring water coming from an underground fault.

In relatively recent times, that is, in the second half of the nineteenth century, presumably due to the construction of the railway line in the part that goes from Casaccia to grottoli, the flow of water was greatly reduced. Thus it was that the continuous jet spouts disappeared and the source was connected to the municipal aqueduct.

The water from Pianella used for production activities
Documentary information on Pianella and the Nannini family
STAY

NEARBY
DINING & ENTERTAINMENT

NEARBY