> Home > What to visit > Archaeological Sites
M02 - La Cornacchia - Antico Mulino
Asciano
ARCHAEOLOGICAL SITES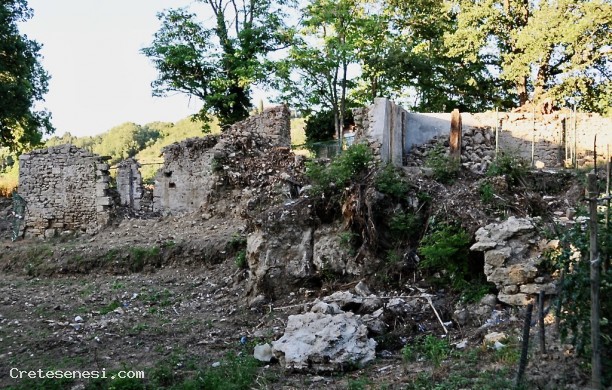 PHONE NUMBERS AND TIMES

M02 - La Cornacchia - Antico Mulino


Business card (vCard)
Of this mill, of which only ruins remain and the evident trace of the large feeding mill, obtained on a part of the old riverbed.

The most important thing and still clearly visible today, is the dam along the river built over a natural waterfall, which allowed the storage of water coming from Molinuzzo and from the spillway that carried water to Sant'Ippolito.

The aforementioned canal, supplying water upstream of the Molinuzzo, lapped the buildings of Sant'Ippolito and then poured into the river, shortly before the Cornacchia dam.

Of these Mulino no documentary material has been found that testifies to their existence in remote times; there is only the documentation included in the Leopoldine land registry. The only certain thing is that in 1813, the mill and the adjacent miller's house belonged to the Marquise Caterina Petrucci.

Next to this structure, the first water supply wells were built which, still today, partly feed the urban aqueduct.
Read historical-documental references by A.R.C.A.
Click here to use the Navigator of the Mills, to know all the details.

STAY

NEARBY
DINING & ENTERTAINMENT

NEARBY