> Home > What to visit > Palaces and Monuments
Palazzo Spannocchi
Asciano
PALACES AND MONUMENTS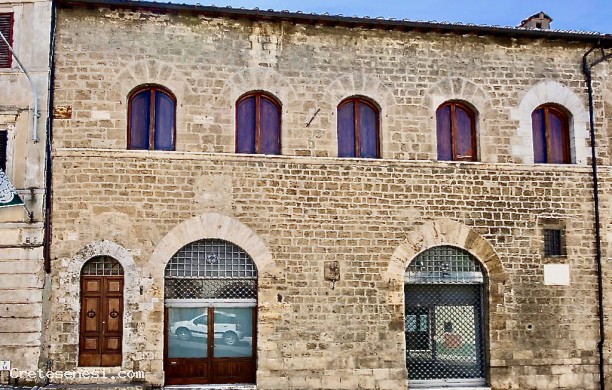 ORARI DI APERTURA E VISITA:
Private non-visitable building


The mansion Palazzo Spannocchi, in the Prato zone, sits where once the Loreto Way split into two roads. One road led to San Giovanni d'Asso. The other led through a plain to the granary (grancia) in Serre (di Rapolano), an important marketplace for the produce grown nearby. Certainly dating from late 15th century, the mansion was a posting station for merchants and pilgrims to rest and change horses. In the second half of the 16th century, it became property of the Spannocchis, who extended it to be their local residence and warehouse.
When talking of the mansion, the adjacent building also is worth noting. With the same architecture, and evidently from an earlier period, it retains a carriage access leading to the back of both buildings, where there is still a source for watering animals.
As can be seen from photographs, up until the 1950's the mansion had its own water well located between the two buildings. This intimates that, for hundreds of years, it played an important posting station role for those travelling along the Loreto Way.
The mansion probably assumed its current form only in the 16th century, when the Spannocchi family established their residence above the two, large, ground-floor rooms that they used for commercial activities, and to warehouse goods.
STAY

NEARBY
DINING & ENTERTAINMENT

NEARBY