> Home > >
010 Tarsia pavimentale della navata sinistra - Sibilla Tiburtina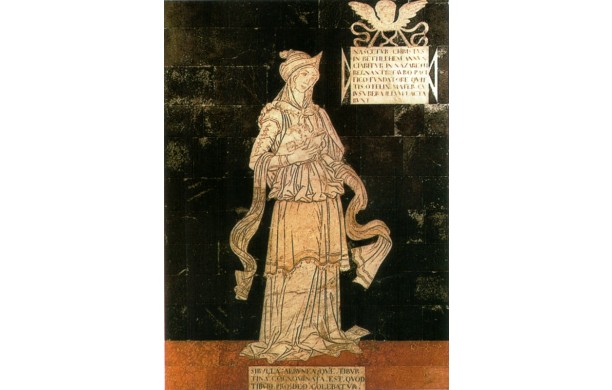 Artist: Benvenuto di Giovanni
Year: 1483
Current location: Cattedrale di Santa Maria Assunta
Original location: Cattedrale di Santa Maria Assunta

DESCRIPTIVE INFORMATION
Last of the left aisle, was put in the report (by Pecci, 1752), with a payment to Benvenuto di Giovanni dated 18 May 1483 for drawing a picture of that person. It was restored between 1864 and 1865. Figure sleek and slender, with an attitude of composed monumentality typical of the artist is dressed in a rich drapery, veils fluttering on the sides and a pointed hat, the dynamic pattern of the veils is slowed by symmetry, enhancing the quiet statuesque figure . The table linked to a cherub in the top right reads: nascetur christus in bethlehem. annunciabitur ruling in nazareth tauro peaceful fundatore quies. or felix mater cucius ubera illum lactabunt ("Christ is born in Bethlehem and Nazareth announced, under the reign of the founder bull for a peaceful rest. O happy mother whose breasts the breastfeeding").
010 Tarsia pavimentale della navata sinistra - Sibilla Tiburtina