> Home > What to visit > Archaeological Sites
Campo Muri
Rapolano Terme
ARCHAEOLOGICAL SITES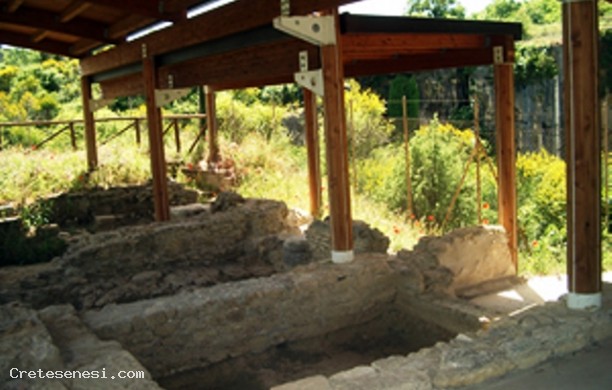 Accessible only by guided tour by appointment.

The thermal complex Etruscan - Roman walls in the locality field dates from the third century BC and is located west of Rapolano, downstream of the existing thermal baths of San Giovanni. It was discovered in the '70s with the start of mining: it is a multilayered archaeological site that has an extension greater than square. 8,000, lapped on the south and east sides by two sides of a travertine quarry was still active.

At the present state of research, attendance oldest archaeological site identified in the field walls seem to attest to the existence of a cult linked to the presence of thermo-mineral water which was to be attributed sacred value as well as healthy and therapeutic, as evidenced by the presence of a deposit votive identified in the Buca delle Fate, wooded area currently present in the north - west of the archaeological complex and likely location of the hot spring in ancient times. The removal of sediment silt - clay deposited at the center of the cone created by the water-mineral sorgentizio that flowed there, came to light some figurative bronzes, fragments of bracelets and bronze coins. Along the south side of the Buca delle Fate, excavations have unearthed a large thermal pool with large terraces perimeter blocks and blocks of travertine pavement made ​​from slabs of travertine regular overlapping.
STAY

NEARBY
DINING & ENTERTAINMENT

NEARBY