> Home > What to visit > Museums
Chiesa e Museo della Misericordia
Rapolano Terme
MUSEUMS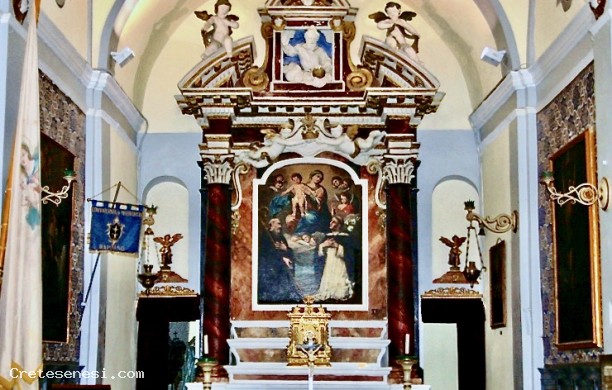 PHONE NUMBERS AND TIMES

Chiesa e Museo della Misericordia


Business card (vCard)
ORARI DI APERTURA E VISITA:
Per le visite è necessario chiedere alla nuova sede della Misericordia, subito fuori dal centro storico.

The church of the Mercy is a sacred building situated in Rapolano terme. The front of the church is plain, in bricks, with portal and window in travertine. The inside has three rich altars in stucco with columns in false marble in eighteenth-century-style.
The only painting which has a certain importance is the Saint Sebastian, by Lorenzo Feliciati. In 1864, the Mercy's Confraternity, which had set here its seat since 1843, joined with that of Saint Mary of the Snows, already mentioned in the XVIII century, and that of Saint Sebastian, situated outside the walls (the building has been transformed in a private house, of which today we can see only the sixteenth-century-front).
The restructured church was inaugurated on the 5th November 1865.
STAY

NEARBY
DINING & ENTERTAINMENT

NEARBY