> Home > What to visit > Old Town
Chiusure
Asciano
OLD TOWN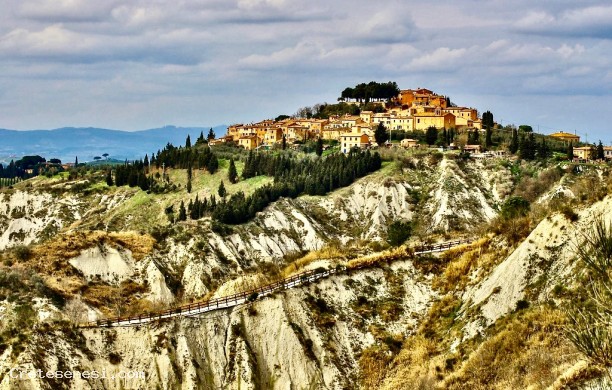 Small historic center built around the ancient parish church of San Michele in Luco, which has now disappeared, and defended by the imposing Cacciaconti castle located in the highest part of the village.

Its position on the highest relief of all the Crete Senesi has always made it a strategic observation point and defense of the surrounding area.

Its existence, of probable Etruscan origin, is documented from the eighth century, thanks to the well-known and centuries-old dispute between the bishops of Siena and Arezzo, over the parish churches on the border between the two dioceses.

Around the year one thousand it was certainly an important bulwark of the territories ruled by the Cacciaconti, lords of Scialenga. Its location guaranteed visual control of the Ombrone valleys, the Asso stream and the Orcia.

In fact, after the conquest of the senses against the Cacciaconti, Chiusure became an important border castle of the Republic of Siena.

In the fourteenth century Chiusure and the surrounding territories were gradually purchased by the Tolomei family and perhaps for this reason, one of them: Bernardo Tolomei, chose the nearby Accona Desert, first as a place of hermitage and the foundation of the Olivetan monastic order, later.

Indeed, it appears from existing documents that in 1333 the entire village was purchased by Antonio di Meo Tolomei. At that time, the cultivation of saffron was successfully practiced around Chiusure: a precious and highly sought-after aromatic essence.

In the following centuries, the village was always inhabited by peasants involved in the cultivation of the surrounding lands, including those belonging to the now important Abbey of Monte Oliveto, which is about a kilometer from the town.

With the advent of the Grand Duchy of Tuscany and the consequent territorial reorganization, the small village became, together with other similar places, a fraction of the Municipality of Asciano.
STAY

NEARBY
DINING & ENTERTAINMENT

NEARBY