> Home > >
Crocifissione tra la Vergine, san Giovanni Evangelista, san Francesco e san Sigismondo
Asciano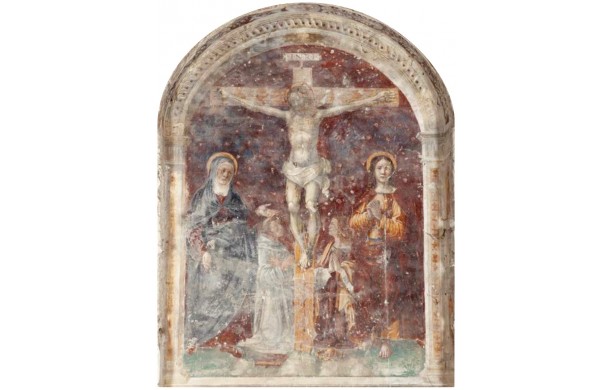 Artist: Scuola del Sodoma
Current location: San Lorenzo a San Francesco
Original location: San Lorenzo a San Francesco

DESCRIPTIVE INFORMATION

The niche obtained in the thickness of the wall located on the left wall just before accessing the presbytery area it was not visible at the time of Brogi, having been rediscovered only under restoration. Its obstruction must have occurred after 1668, since Nuti referred to the fresco inside with the Crucifixion with the mourners and Saints Francis and Sigismund in relation to a small untitled altar. Peruzzi, continuing his "visit" counterclockwise after the chapel of San Lorenzo, comes across the altar of the Crucifix, under the patronage of Nardini, before that of the Immaculate Conception in the center of the left wall: therefore it is possible to identify it precisely with this niche, also given the subject depicted, the work of a painter very close to the young Sodoma of the early sixteenth century.
The state of abandonment already deprecated by the visitor must have been the reason for the dispossession of the important liturgical title, which first migrated to the chapel of
Santa Margherita, to the right of the main one, where for a while the "big Crucifix" was kept for a while and then transported in the chapter, then on the second altar of the right wall
where it replaced that of San Martino already in the seventeenth century and for who Francesco Nasini will carry out the Crucifixion with the dolenti and San Francesco today in museum.
Crocifissione tra la Vergine, san Giovanni Evangelista, san Francesco e san Sigismondo