> Home > >
Farmacia F. CHELLINI
Rapolano Terme
FARMACIE ED ERBORISTERIE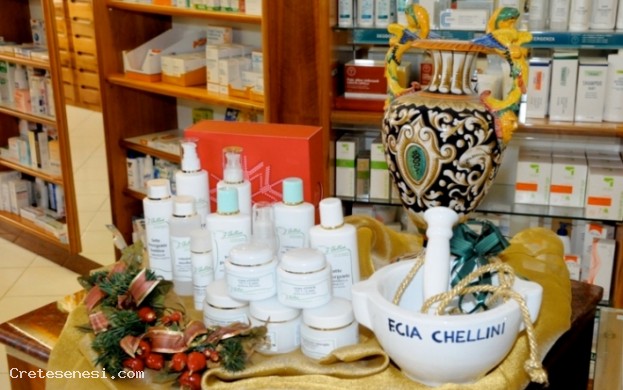 PHONE NUMBERS

Farmacia F. CHELLINI
53040 RAPOLANO TERME, via di Porta Nuova 1/A

Telephone 0577 724018
Fax 0577 724018
Time: Da Lunedi a Sabato: 9,00 - 13,00 e 16,00 - 20,00
Closed: Domenica, ma aperto per turno il 19/5, 9/6, 30/6, 21/7, 11/,8, 1/9, 22/9

Website: http://www.farmaciachellini.it


Business card (vCard)
The pharmacy F. Chellini the Coppola family-Chellini Rapolano Terme is located next to the supermarket Coop.
For four generations, to ensure its guests the utmost professionalism, courtesy and convenience, with a particular commitment to improving service quality, investing in staff training, in order to provide stakeholders capable of dealing with everyday problems of its customers in an area as , varied and complex. You can go into pharmacy even if you have pain, headaches and allergies, because you will be made available to the best of what is useful for your wellbeing and your beauty.
In addition to all the classic drugstore products, you will be offered all the herbal remedies and homeopathy, in addition to the supplied department and baby food products including toys safe and guaranteed.
Dr. Lorenza Chellini guide his team prepared, courteous and attentive continuing to promote a pharmaceutical dedicated to the natural product in health and wellness with a focus on the convenience for the customers. The pharmacy, in fact, joined the chain "Farmainsieme" group of pharmacies in central Italy that offer services, OTC drugs and medical equipment at significant discounts

with offers that follow the seasonality of disease.
The Pharmacy F.Chellini then offers services of self-analysis, galenic preparations, homeopathic products, herbal medicine, veterinary medicine, food for celiac, medical, termocosmetici, foods for diabetics, articles for early childhood, health articles, health shoes, reading glasses, pressure measurement, reservation specialist visits (CUP), specific nutritional supplements for athletes.
The hotel also offers a well-stocked department dermo-cosmetic products and nutraceuticals own brand made in the tradition of galenic preparations in pharmacies and inspired by the potential of nature and the innovative thrust of the research. All our products are scientifically guaranteed by the Department of Cosmetology of the University of Padua and Ferrara, by the Department of Engineering Materials University of Trieste and produced by the laboratory Unifarco of Belluno, an ancient group of Pharmacists Preparers ISO 14001 certified.
For a cozy and many varieties of products and sum the relevant proposals are courtesy of the staff, always prontoad advice to help achieve a perfect balance of form-health, making the Pharmacy F.Chellini the reference point for your care and for your well-being.