> Home > What to visit > Castles
Gallico
Asciano
CASTLES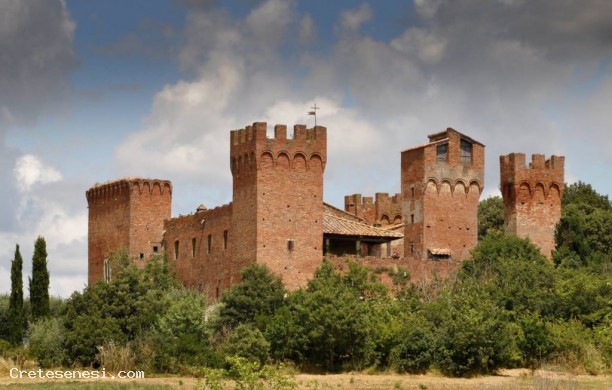 ORARI DI APERTURA E VISITA:
Being privately owned, the castle and the collection can only be visited on the invitation of the Arch. Salini.


The Castle of Gallico, with its five towers in stone and red bricks, is a wonderful example of a fortified farm: its imposing structure rises solitary on the tableland of the Crete in the Commune of Asciano, not far from the village of Montecalvoli, to the happenings and owners of which it has been linked for a long time. The sienese family of Tolomei bought the castle of Gallicoin 1319 and ,towards the end of the century, it enlarged the already existent tower for keeping there the products of the land; then it became a castle-grancia. The Griffolis, rich merchants of silk from Montepulciano, bought it in the first half of the XV century and the sienese republic obliged them to keep there a garrison of soldiers to defend this important strategic outpost. Passed through different owners, towards the end of the XVIII century, it was given to the Hospital of Santa Maria della Scala of Siena, and then given back to the family Vallesi and, at the beginning of the XIX century, it passed in heritage to the family Terrosi and then, in the first half of this century, to the family Fei and to the Biagini of Monte San Savino. Recently, offer the buying made by a well-known roman entrepreneur, it has been carefully restored and enclosed, so that, unfortunately, now you can admire it only from far off.
To access the map of the defensive sighting network, of which the Gallico Castle was a very important node, click here.

STAY

NEARBY
DINING & ENTERTAINMENT

NEARBY