> Home > What to visit > Fountains
La Pianella
Asciano
FOUNTAINS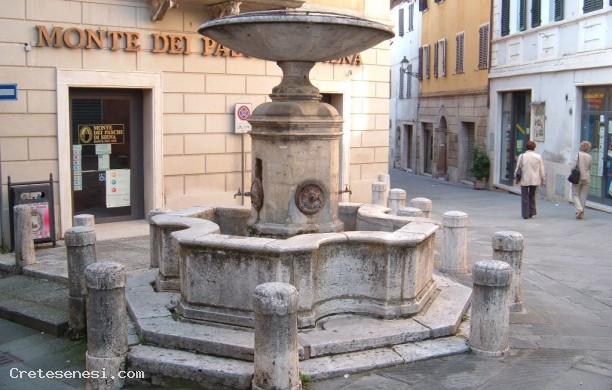 PHONE NUMBERS AND TIMES

La Pianella
Corso Giacomo Matteotti 53041 Asciano



Business card (vCard)
This beautiful fountain at the crossroads of the main streets of the historic center and in front of the Palazzo Tolomei dates back to the 19th century. It was built to be both a source of water supply and an ornamental fountain. From the central body standing in a large water collection tank, four brass taps emerge from wide cast-iron fittings decorated with rosettes. Above this structure rests a large round basin with a main jet in the middle and small spouts along its entire circumference.
The current fountain is a refurbishment of the one already documented by Gherardini in 1676 and adopted as a coat of arms by the Nannini family. In fact, this family used the overflow water to feed its tanneries, located near the Porticciola, to a much lower level.

His first realization could be the source of the Mencia and linked to the change of Lauretana route. In fact, it was conceivable that the space occupied by the fountain previously belonged to the fortifications of the second wall circle of the hamlet: the one built to defend the furnace area, which was born to the south of the oldest settlement.
STAY

NEARBY
DINING & ENTERTAINMENT

NEARBY