> Home > Where to stay > Residences
LUCIGNANELLO BANDINI
San Giovanni d'Asso
RESIDENCES 2 STARS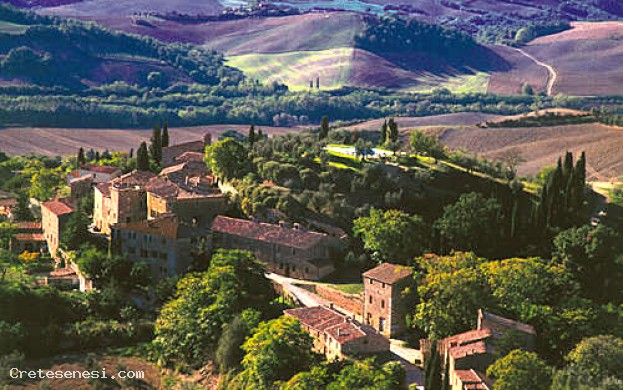 * Required field
DO YOU WANT MORE INFORMATION?
Call our Call Center at

Tel. 0577 803068 - Fax 0577 803082

We will be happy to help you better organize your stay!
SERVICES
ACCETTAZIONE ANIMALI DOMESTICI
DEGUSTAZIONE PRODOTTI AZIENDALI
PISCINA SCOPERTA
LAVATURA E STIRATURA BIANCHERIA
ACCESSO A INTERNET
SERVIZIO FAX
RISCALDAMENTO INVERNALE
STRUCTURE DESCRIPTION

Historic residence of high level in the charming medieval village of Lucignano d'Asso. Annual opening. Hospitality in 5 houses and 1 private farmhouse ( 21 sleeping accommodations), carefully restored and endowed with modern services. Services: private swimming pool, cycle's hire, possibility of excursions, products' tasting and, in the nearness, a horsemanship. Products: extra-virgin olive oil. Lucignano d'Asso expresses more the local history then the one which is documented by the Annals of big events. The tenuous colours of its walls, an architecture of a quiet beauty and the settlement in an extraordinary natural place, still wonderfully untouched, speak about the thousand daily matters which over the centuries, have shaped the natural life of this southern corner of Tuscany: an agriculture centred on the quality than on the quantity, and the craftwork of pottery makers, blacksmiths and stone-cutters. Hidden among the Crete Senesi, the nice village testify how the past, kept with due respect, can also live again in the present and offer inspiration for the future. Stay in Lucignanello Bandini, dive into a landscape of the gentle hills, dotted here and there by a solitary cypress, let yourself be enchanted by the glittering of the olive trees, which are moved by the breeze, it all means to find again the inner peace which comes from the restored contact with activities, whose rhythms reflect those of the change of seasons.
WHAT TO VISIT

NEARBY
DINING & ENTERTAINMENT

NEARBY