> Home > What to visit > Churches and Monasteries
Monastero di San Nazario
Asciano
CHURCHES AND MONASTERIES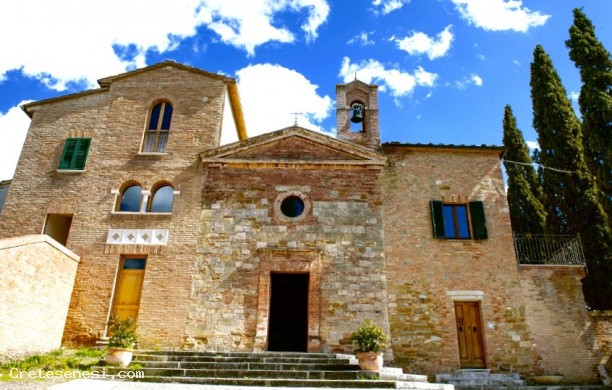 The Monastery of San Nazario was born on the initiative of Father Abbot General and Ordinary of Monte Oliveto Maggiore, Fr Romualdo Maria Zilianti († 1975), eager to have a purely contemplative female monastic center in the territory of the abbey.
The task was entrusted to Maria Maura Abbiati († 1976) from the Monastery of San Giacomo in Palo del Colle (Bari), who lavished all her energies of mind and heart on the community, of which she will remain Conventual Prior for many years.
So it was that in 1955, some nuns of the Monastery of San Giacomo di Palo del Colle moved to the former canonical house of the parish of San Nazario to build a new religious house under the rule of the Holy Father Benedict.
The community was then erected in an autonomous monastery, of pontifical right, by decree of the Sacred Congregation for Religious on January 23, 1957. Subsequently, on March 21, 1989, the Congregation for Institutes of Consecrated Life and Societies of Apostolic Life approved the Constitutions. On September 2, 2003, the same Congregation approved and confirmed the request for association with the Benedictine Olivetan Congregation, to strengthen the bond which is the source of the spiritual bond.
On November 7, 2003 the Congregation for Institutes of Consecrated Life expressed its assent to the attainment of the legal personality for civil effects of the San Nazario Monastery of the Benedictine Olivetan Nuns.
STAY

NEARBY
DINING & ENTERTAINMENT

NEARBY