> Home > What to visit > Old Town
Montisi
San Giovanni d'Asso
OLD TOWN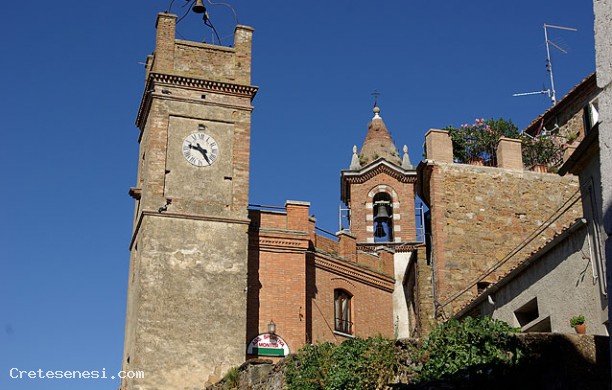 At least from the 1283 men of Montisi were organized in a commune, with its "massari. In August 1289, after the episode of the castle by the fuorusciti Ghibellines, the Sienese authorities decreed the removal of walls, but it is doubtful whether the measure was then given Corsican. Later, however, Montisi would continue to be a fortified centre of considerable importance. In April 1291 the brothers Simon, Fazio and Cacciaconte Cacciaconti signed an act of division of pensions and rights important in the castle and the village of Montisi, then Simon, with a substantial following armed men, moved an assault against the castle -- whose lordship had perhaps Check the local community: the castle three men were killed and others conducted by prisoners, houses of the village were burned, and residents robbed of their possessions and many cattle. In 1295 Simone left testament to their possessions in the Montisi Spedale della Scala, in pursuit of that time would have purchased a large portion of land around here Montisi and organized a "grancia. Maybe towards the end of'300 were built fortifications of Grancia of Montisi, described in a manuscript eighteenth as "a good use of a fortress palace, tower, with its antiporti drawbridge and cloister in the middle and a beautiful walled tank, controfossi with trenches and around ... ".
As for the castle, by 1371 it was the appointment of a vicar town, which also exercised authority at the Montelifré and Belsedere. On several occasions, in'400, were made by the local community requests for lightening tax, with the usual reasons of the residents and of, and sometimes the need to provide for the renovation of the castle walls in ruins. In 1494 it was approved the Statute of the City of Montisi.
A circular road, lined with old houses, running around the hill, on whose summit a big square building, totally altered, it could be the formwork; houses downstream arise on a first circle of walls with a shoe leads to a brick arch, decorated with a lap of bricks made for tip.
In the south-west grafted another circle partial walls traced more erratic, but difficult to be reconstructed, due to its fragmented; one of its visible traits is crowned by a shoe cord and another opens a door. Outside the walls surrounding the remains grancia also fortified, as shown by a base wall and a bastion both a shoe along the way.
STAY

NEARBY
DINING & ENTERTAINMENT

NEARBY