> Home > What to visit > Palaces and Monuments
Monumento ai caduti di Chiusure
Asciano
PALACES AND MONUMENTS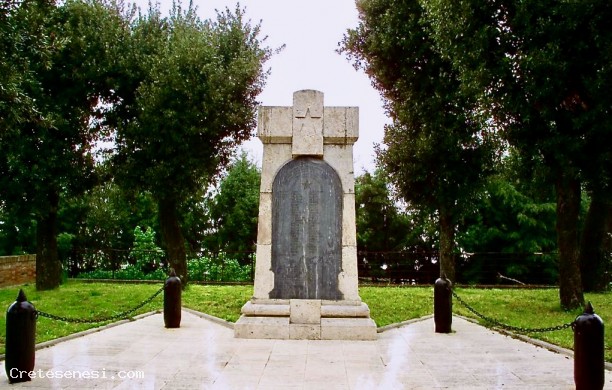 PHONE NUMBERS AND TIMES

Monumento ai caduti di Chiusure
Via del Cassero



Business card (vCard)
Brick covered structure on the front and sides of the travertine worked with architectural decorations; On top of a big five-pointed star; In the center there is a gray marble tomb decorated with an engraving that reproduces a base with relief objects such as a labar and a helmet with Roman soldier crest.
Opened: September 11, 1921.

Monument description:

He praised Chiusure that in the Italian-Austrian war immolated the greatness of Italian young people the fighting section and the people all put this memory to mark the posterity of applause and glory
The fallen in the First World War:

Angiolini Giovanni cap
Barbi Giulio
Cesari Carlo
Ciacci Adolfo
Ciacci Giovanni
Of the Right Sabatino
Gorelli Pasquale
Lorenzetti Achille
Lucaroni Giulio
Lucattini Agostino
Maffei Guido
Mancini Nello
Mazzetti Armando
Neri Constantine
Papini Angelo
Papini Serafino
Parri Nello
Polloni Giulio
Sensi Enrico
Sensi Mario
Valentini Agostino
Valentini Angelo cap. Maj.
Valentini Giulio cap. Maj.
Vanni Alessandro Sergeant.

STAY

NEARBY
DINING & ENTERTAINMENT

NEARBY