> Home > What to visit > Palaces and Monuments
Monumento ai caduti
Asciano
PALACES AND MONUMENTS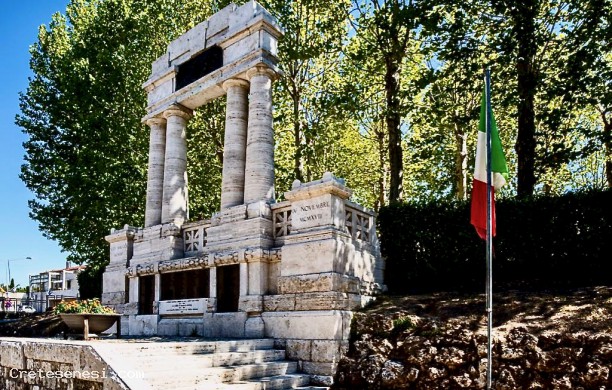 PHONE NUMBERS AND TIMES

Monumento ai caduti


Business card (vCard)
Shortly after the end of World War I, the citizens of Asciano felt the need to immortalize the great sacrifice of blood that the town had had to make. At least 162 participants in the war had given their lives.
Already in 1921 a part of the monument that we see today was realized and in 1928 the inauguration was made, after the completion of the structure. Then, in 1938, in the presence of a fascist minister, the monument was inaugurated as we see it today, with the adjacent Parco della Rimembranza where, for each fallen, a tree with a nameplate was planted.
Over the years, unfortunately, acorn trees have become dry and the nameplates have disappeared for decades, but the monumental complex has remained intact in its great solidity and harmony. Only in the fifties of the last century a text was added, in memory of the fallen people in World War II.

On the base of the monument are located three bronze slabs with incise all the names of the 162 fallen:
Aloisi Assuero
Angiolini Giovanni
Anselmi Sabbatino
Baldelli Luigi
Baldesi Ezio
Barabesi Attilio
Barabesi Olinto
Becatti Gastone
Becatti Giuseppe
Benincasa Egisto
Benincasa Guido
Benocci Gino
Biagi Giuseppe
Bianchini Giuseppe
Bolognesi Giovanni
Bolognesi Pasquale
Bonechi Giovanni
Borghi Guido
Borgogni Giuseppe
Braconi Luigi
Brizzi Giuseppe
Brogi Amedeo
Brogi Savino
Cannoni Luigi
Cannoni Guido
Cantelli Giovanni
Casini Nello
Cavallini Raffaello
Cenni Giuseppe
Cerchini Marco
Cesari Carlo
Ciacci Adolfo
Ciacci Azelio
Ciacci Giovanni
Ciacci Mario
Ciani Amedeo
Cinagli Aagostino
Cresti Guido
Cresti Natale
Dami costantino
Del Fa Egidio
Del Giusto Sabatino
Del Secco Zelindo
Donati Giulio
Duranti Nello
Fabbri Giulio
Faeti Adamo
Faeti Carlo
Forzoni Giuseppe
Francesconi Angelo
Fratagnoli Cesare
Fratagnoli Gabriello
Fratagnoli Mariano
Frosinini Savino
Gagliardi Gregorio
Galassi Angelo
Giardini Domenico
Cioli Giuseppe
Giovannoni Olinto
Giustarini Marino
Giusti Arrigo
Gorelli Giuseppe
Gorelli Silvestrolino
Gorelli Pasquale
Laccagni Antonio
Leonini Antonio
Lippi Giovanni Battista
Lorenzetti Pietro
Lorenzini Emilio
Lorenzini Giulio
Lorenzini Sabatino
Lorenzoni Emilio
Lucaroni Giulio
Lucattini Agostino
Maffei Guido
Magini Luigi
Magini Santi Pietro
Mancini Giovanni Battista
Mancini Nello
Marchetti Primo
Maremmi Adamo
Mariotti Giuseppe
Martinelli Sesto
Materozzi Ildebrando
Mazzi Giulio
Mencarelli Severino
Menchiari Sabatino
Minacci Emilio
Minetti Antonio
Moscadelli Emilio
Mucci Guido
Mucchiarelli Sestilio
Neri Costantino
Neri Dante
Nucci Agostino
Nucci Guido
Pacenti Guido
Paghi Anastasio
Paghi Brunetto
Paghi Celestino
Paghi Emilio
Ppalazzi Giulio
Papini Angelo
Papini Serafino
Parri Nello
Parri Soccorso
Parrini Novilio
Parrini Quirino
Passalaqua Giuseppe
Passalacqua Natale
Passalacqua Nello
Pellegrini Savino
Perinti Amedeo
Pianigiani Pietro
Poggialini Emilio
Poggialini Giuseppe
Polloni Giulio
Regoli Angiolo
Regoli Emilio
Regoli Guido
Ricci Giacomo
Rocchi Augusto
Rochi Dante
Romi Giulio
Romi Nello
Roncucci Amedeo
Roncucci Guido
Rosati Giulio
Rossi Artemio
Rubbioli Adamo
Rubbioli Ottavi
Sabbatini Dante
Sani Armando
Sani Roberto
Sani Savino
Santinelli Pasquale
Santini Giuseppe
Sartini Pietro
Semboli Olinto
Semboli Zelindo
Semboloni Giuseppe
Semboloni Vittorio
Sensi Mario
Starnini Lorenzo
Tei Ottavio
Tofani Serafino
Tommasi Carlo
Trapassi Gaspero
Valentini Agostino
Valentini Angiolino
Vanni Alessandro
Vannini Giovanni
Vannuccini Benedetto
Vegni Egisto
Vegni Gabriello
Vegni giuseppe
Vigni Carlo
Volpi Antonio
Volpi Givseppe
Zacchei Sabatino
Zincherini Angiolo
STAY

NEARBY
DINING & ENTERTAINMENT

NEARBY