> Home > What to visit > Museums
Museo Cassioli Pittura senese dell'Ottocento
Asciano
MUSEUMS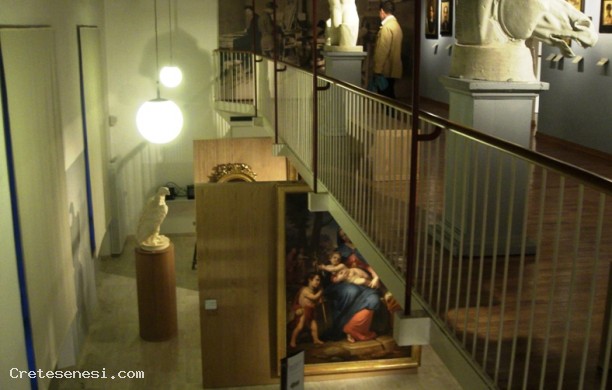 PHONE NUMBERS AND TIMES

Museo Cassioli Pittura senese dell'Ottocento
via G. Mameli 34 53041 ASCIANO

Telephone 0577/717233 0577/719510


Business card (vCard)








ORARI DI APERTURA E VISITA:

Morning: Tuesday to Friday, closed. Saturdays, Sundays and public holidays, 10.00 - 13.00
Afternoon: Tuesday to Friday, hours 14:30 to 17:00. Saturdays, Sundays and public holidays, hours 14:30 to 18:00

Monday closed

The museum "Cassioli", created in 1991 thanks to an important legacy of work by Amos and Giuseppe Cassioli, has reopened to the public on the 13th September 2007 with a new setting up and an important increase of works of the main member of the sienese school of the XIX century, which have been given in free loan to the commune of Asciano by the Artistic Institute "Duccio di Buoninsegna" of Siena.

With the exposition of the collection of the Artistic Institute of Siena which had been kept till nowadays in the stores and offices of the Monuments and Fine Arts Service of Siena, the "Cassioli" museum is the only centre completely dedicated to the sienese painting of the XIX century of Siena and its province. The idea of the project was born some years ago in concomitance with the beginning of the works for the exhibition "On the sign of Ingrés". Luigi Mussini and the Academy in Europe in the XIX century, which will have place in Siena at the Hospital of Santa Maria della Scala, from the 6th October 2007 to the 9th January 2008 and which sees the Foundation of sienese Museums among the promoting Associations. The new expositive path consists of two sections; the first part shows the important rule of the Imperial and Royal Institute of the Fine Arts, founded in 1816, in the formation of most part of the artists, artisans and restorers in Siena during the XIX century; the second part underlines the relationship between Amos Cassioli and the Sienese school.
STAY

NEARBY
DINING & ENTERTAINMENT

NEARBY