> Home > What to visit > Museums
Museo Cassioli Pittura senese dell'Ottocento
Asciano
MUSEUMS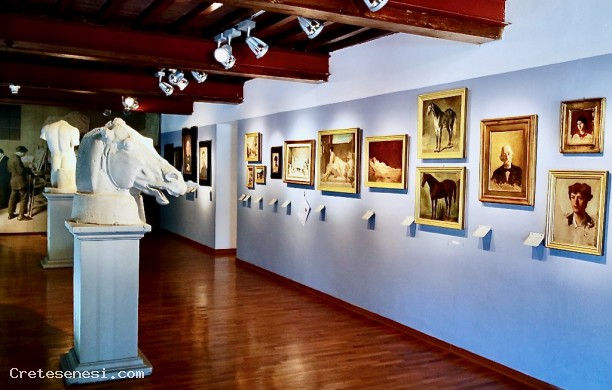 PHONE NUMBERS AND TIMES

Museo Cassioli Pittura senese dell'Ottocento
via G. Mameli 34 53041 ASCIANO

Telephone 0577/717233 0577/719510


Business card (vCard)
ORARI DI APERTURA E VISITA:
Saturdays, Sundays and holidays from 10 to 13 and from 15 to 19.
TICKETS: Full € 5,00; Reduced € 3.00

Established in 1991 thanks to the important legacy of works of the Cassioli family, originally from Asciano, it was rearranged in 2007 with the addition of numerous works in storage at the Art Institute of Siena which make this museum the only dedicated location to Sienese painting of the 19th century.

In fact, alongside the paintings by Amos Cassioli, there are works by students of the Academy directed by Luigi Mussini. Of particular interest is also the section of graphics and sculpture.

In addition to a large number of paintings by Amos Cassioli, author of the battle scenes of the famous Sala del Risorgimento in Palazzo Pubblico in Siena, you can appreciate some interesting paintings of his son Giuseppe, characterized by a modern trait that favors the color spots over well-defined details.

The Museum also adequately houses interesting works by: Angelo Visconti, Cesare Maccari, Pietro Aldi and others, all brilliant students of the 19th century Sienese Academy of painting.

In summary:
60 canvases and 268 drawings by Amos Cassioli and his son Giuseppe
40 works by various authors from the Art Institute of Siena
Click here to see the film on the frescoes of the SALA DEL RISORGIMENTO in Siena with the two large frescoes, by Amos Cassioli.
STAY

NEARBY
DINING & ENTERTAINMENT

NEARBY