> Home > What to visit > Museums
Museo d'Arte Sacra della Val d'Arbia
Buonconvento
MUSEUMS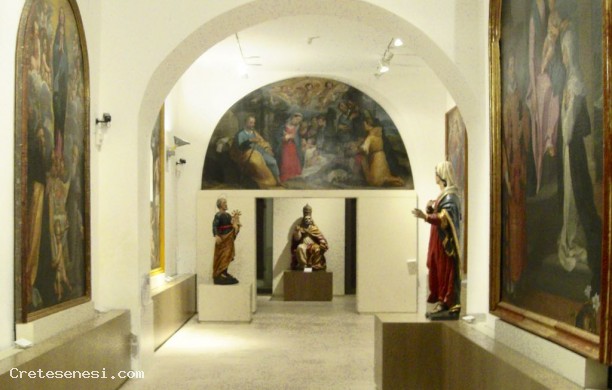 ORARI DI APERTURA E VISITA:
Winter hours (November 1 to March 31):
Saturday and Sunday 10.00 - 13.00 / 15:00 to 17:00

Summer hours (April 1 to October 31):
from Thursday to Sunday 10.00 - 13.00 / 15.00 - 18.00.
On Wednesdays only from 15.00 to 18.00

Summer holidays: August 7 to 12 (open on request)
Closed Mondays and holidays (January 1, May 1, 15 August, 24, 25, 31 December)

Special opening at Easter and during special events and local festivities.

Other days open by appointment for groups.


Inaugurated in 1979 into another expositive context, the Museum has been moved into the Palace Ricci Solini, a delicious example of architecture and internal decoration in Liberty style. It was a parish priest from Buonconvento, don Crescenzio Massari, who, in 1926, collected all the works of art of the different stores of the Church and created the original centre of present Museum of Sacred Art of Val d'Arbia, which is richer and more complete than the first one, but with the same purposes of the starting collection: to document the worship and the artistic expression of the valley's devotion. The collection consists in sacred art-works(paintings, sculptures, textile goldsmitheries) of the territory of Val d'Arbia, to testify the sienese culture from the XIII to the XIX century, with its main protagonists: Duccio, Pietro Lorenzetti, Luca di Tommé, Andrea di Bortolo(XIV century); Sano di Pietro, Matteo di Giovanni, Girolamo di Benvenuto, Pietro di Domenico, Guidoccio Cozzarelli(XV century); the followers of Baccafumi, from Bartolomeo di David to the Brescianino and Riccio(XVI century); Rutilio Manetti, Francesco Vanni, Astolfo Petrazzi, Ventura e Simondio Salimbeni, Francesco Bartolini and Bernardino Mei(XVII century). Very interesting is also the presence of objects used by the laic companies, in particular the so called "stretchers" and the different tabernacles and the small temple created by the main artists of that time.

STAY

NEARBY
DINING & ENTERTAINMENT

NEARBY