> Home > What to visit > Churches and Monasteries
Oratorio del Santissimo Crocifisso
Asciano
CHURCHES AND MONASTERIES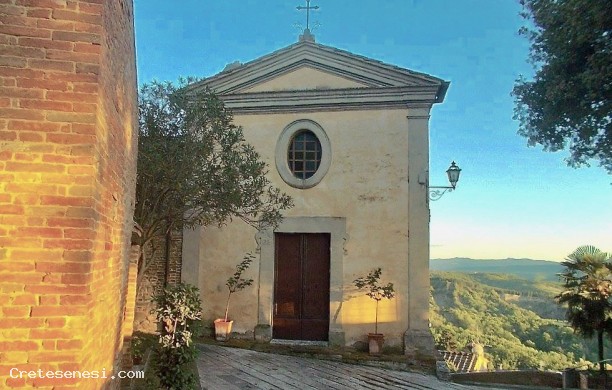 PHONE NUMBERS AND TIMES

Oratorio del Santissimo Crocifisso


Business card (vCard)
ORARI DI APERTURA E VISITA:
Open only on request to the Monks Olivetani

The oratory of SSCrocifisso dates back to the early nineteenth century, when the Olivetan monks, granted the local Company of Sacramento, recently restored after the suppression of lay operated the Grand Duke Peter Leopold companies, two adjacent houses in order to convert this small church, located at the top of the village of closures.

The building has a façade with a tympanum and a lighter shade plastering. An oval oculus above the portal. The right side, the only one open, shows a brick wall apparatus with salvaged stones and some spurs, it opens a simple window below which you notice a buffered arc.

Inside the oratory, in relation to the small size it is too full of items. Above the high altar, the Virgin and St. John, from opposite sides contemplate the Crucified. In the side walls are placed two paintings that depict, respectively, the "Madonna with child" and "St. Michael slaying the dragon."

In the light-hued interior walls are decorated with cornices and square pillars faux marble yellow, that separate them from the vaulted ceiling, painted with classical decorations and garlands, with the Blessed enclosed in a radiant monstrance central location.
STAY

NEARBY
DINING & ENTERTAINMENT

NEARBY