> Home > Tracks
Palazzomonaci around the cell
Asciano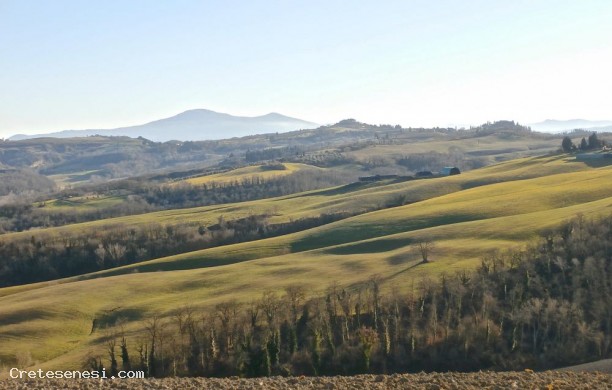 TECHNICAL DETAILS

Track length: 5,35 km

Road bed type: Misto Asfalto/sterrato

Difficulty: Medio-alta


Safari 13 - This route seemingly uninteresting, reserve rather unique opportunities for shots of various kinds.

In fact, shortly after taking the first leg in steep climb, the view opens up to the left on storicio center of Asciano, on display with all its distinctive architecture and urban planning.

Going to a very high level, compared to the localization of the country, the possibility of framing the same with us for almost the entire route.

However after a few hundred matri beyond the junction at the top of the hill, taking the left, on the right side of the road to Monte Oliveto Maggiore, is spre an opening that allows great views of the valley below and the Crete dell'Ombrone you extend towards the Chianti.

But the most beautiful views you can pick when, arrived in Palazzomonaci, turn left onto the dirt road leading to the farm of the cell, through the now ruined farm Dienone.

After a few steps, it opens a wide view that sweeps from the north east and south west, leaving hikers are spoiled for choice on the subject.

In particular, turning his gaze to the right you can see a vast rural area that evolves until it reaches the highest point in closures. In the background behind these hills you can clearly see the outline of Mount Amiata, featuring landscapes Valdorcia and territory southwest of Crete.

To the east, the view sweeps from Trequanda to the heights of Lecceto with its watchtower, to the villages of Serre and Rapolano. From here on you cominca to go down to the cell and the road that leads from San Giovanni d'Asso Asciano.

To reach the paved road, cross, on a small bridge, the river tributary Copra dell'Ombrone and then turn left to get anywhere Asciano.

The path back to the starting point, intended to cross the whole course Matteotti and then turn on the path of Peschiera and take the new pedestrian access to the parking lot under the walls.
STAY

NEARBY
DINING & ENTERTAINMENT

NEARBY
Palazzomonaci around the cell