> Home > What to visit > Museums
Piccolo Museo Compagnia del Santissimo Sacramento
San Giovanni d'Asso
MUSEUMS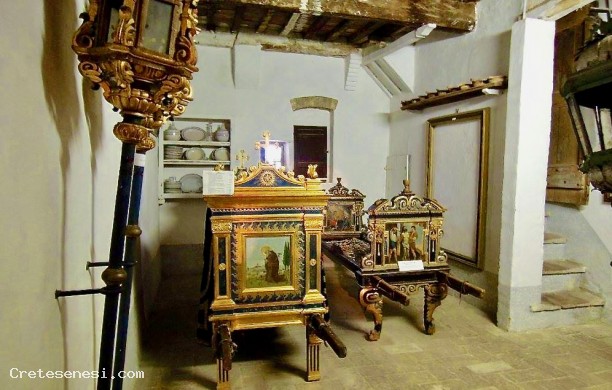 PHONE NUMBERS AND TIMES

Piccolo Museo Compagnia del Santissimo Sacramento
Montisi, via Umberto I°



Business card (vCard)
ORARI DI APERTURA E VISITA:
Viewing on demand

Like any self-respecting Brotherhood, also to Montisi it has preserved furnishings and objects related to its assistance to the people and equipment for religious ceremonies.
Oratory in annexed premises of St. Anthony, in spite of the small space, is set permanently a remarkable exhibition of religious art, which is divided into three areas: Sacristy Hall of Brotherhood and Crypt.

In the sacristy they are collected censers, boats, chalices, ciborium and Baroque patens. There is also a wooden crucifix painted by eighteenth-century table.

The Hall of Brotherhood insists above the sacristy and contains innumerable objects: in a large glass case there is the life-size statue of Our Lady of the Seven Sorrows. There are also a banner processional painting and ancient missals XVII-XVIII century.

But remarkable and truly impressive is the crypt in this large room below the oratory with a barrel vault arched are kept of cataletti and objects for the Good Friday procession. On either side of the door are statues of St. Bartholomew and St. Anthony Abbot and, on the wall backdrop, a fourteenth-century fresco depicting the Crucifixion.

Everything recalls the vanity of life and thought only right that a Christian must have for the loom and the sister draw near death have been recently discovered and brought to light a burial, the bones that were left visible, beyond a small window glass gods which opens on the lower part of a wall.

In one of the funerary objects on display include the following invocation, written in large letters: "I sinned, Lord, and your judgment I fear / pity on me in the last day."
STAY

NEARBY
DINING & ENTERTAINMENT

NEARBY