> Home > What to visit > Churches and Monasteries
Pieve dell'Assunzione di Maria
San Giovanni d'Asso
CHURCHES AND MONASTERIES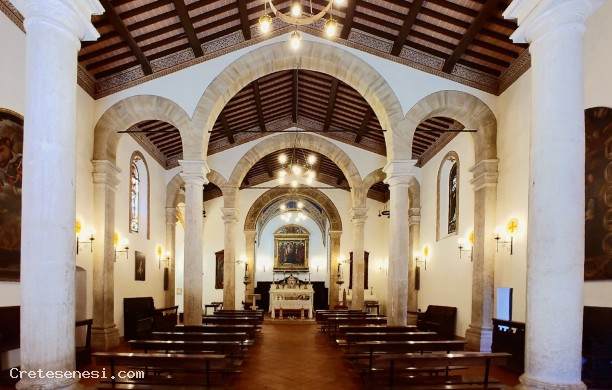 PHONE NUMBERS AND TIMES

Pieve dell'Assunzione di Maria


Business card (vCard)
The Parish of the Virgin Mary's Assumption(in times past "Parish of the Assumpted") is situated in Montisi.
It was built on the inside with works which have changed its original character.
It still keeps precious works of art: the "Crucifix" on tablet by a sienese painter of the first half if the XIV century, under Duccio's influence, which is unfortunately very fragmented and the great altar piece by Neroccio di Bartolomeo de Landi(Siena 1447-1500) which represents the Madonna with Christ Child among the saints Paolo, Giacomo, Pietro and Lodovico", signed and dated 1496.
The three compartment-predella with "Episodes of Saint Sebastian's life" and the "Crucifixion". Until now considered a part of the Renaissance altar piece by Neroccio but which on the contrary don't belong to it, are exposed in the Diocesan Museum of Pienza.
STAY

NEARBY
DINING & ENTERTAINMENT

NEARBY