> Home > What to visit > Palaces and Monuments
Porta dei Tintori
Rapolano Terme
PALACES AND MONUMENTS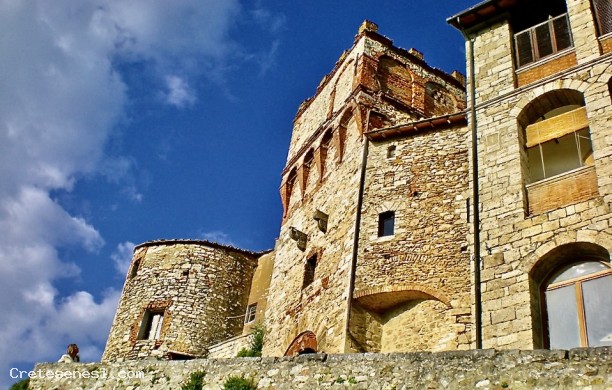 he following year, the Municipality of Siena itself helped to build or rebuild what had been demolished the previous year. In fact, in the arch of the Porta dei Tintori or Porta a Siena, in addition to the coat of arms of Rapolano, three coats of arms of the Municipality of Siena are carved on the sides, the year of execution, MCCCVII (1307) and the wording "tempore notarii Pieri Pichonis", probably relating to the vicar sent by the Municipality of Siena.

The structure of this gate is characterized by a square tower with an arched opening, surmounted by two travertine corbels, perhaps used to support the machicolations. Next to it, on the left, the gate is further defended by a round-plan tower, probably from an earlier period. Inside the gate, various buildings from the medieval period can be seen.

Among these, from 1680 until 1803 the stately building, leaning against the gate, belonged to the noble Buoninsegni family, owner of the estate and the village of Poggio Santa Cecilia.

The Buoninsegni developed a flourishing dyeing business in the grounds of this building and the industrial census of the Grand Duchy of Tuscany in 1766 shows that every year from Arezzo they arrived in Rapolano: woolen stockings, spun wool, skeins of linen, silk yarns and about 20,000 arm lengths (=11,600 meters) of different cloths to be fulled and dyed, thanks to the considerable amount of water present in the area.
This activity was so important that the ancient name of "Porta a Siena" was associated with that of "Porta dei Tintori".
STAY

NEARBY
DINING & ENTERTAINMENT

NEARBY