> Home > What to visit > Old Town
San Giovanni d'Asso
San Giovanni d'Asso
OLD TOWN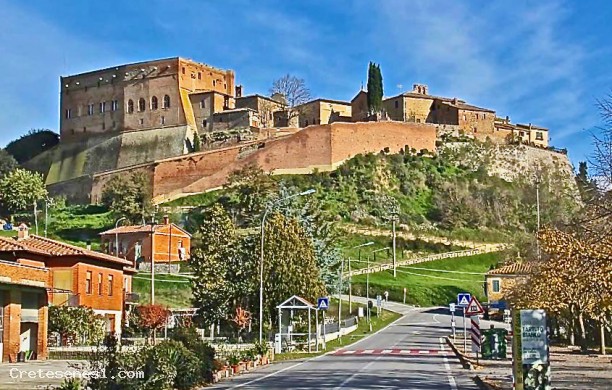 PHONE NUMBERS AND TIMES

San Giovanni d'Asso


Business card (vCard)
Most likely the birth of the Castle and the village that formed around it can be traced back to the early Middle Ages, in the centuries in which the phenomenon of fortification took place; in fact, in Etruscan-Roman antiquity the human settlements in the area were arranged along the Cosona-Lucignano-Pava-Pieve a Salti axis.

The construction of the castle is certainly due to the Counts of Scialenga, then Lords of the territories south of Siena. In the same period the Borgo di Sotto area also developed, near the source of the Fonti and where the rectory of S. Pietro in Villore was built, a small Romanesque-style parish church.

The first documentary information we have regarding the Castle dates back to 1151, when the feudal lord, Paltonieri di Forteguerra belonging to a family branch of the Cacciaconti, subdued himself and his castles to Siena. A few decades later (1178) we know that San Giovanni had become the property of Ugolino Scolari, viscount of Chiusdino, who also made an act of submission to Siena.

The castle later passed to the Counts of Civitella, not without contrast with the Scolari family. During this period, the expansion of the landed property of noble Sienese families and institutions developed throughout the Asso Valley.

The economic importance of the area is proven by a strong extraordinary tax of 250 lire, which Siena imposed on the Sangiovannesi in 1208, and by the commitment of the same city in regulating the waters of the Asso in the plain between Lucignano and Monterongriffoli, at the end of the century. XIII.

Towards the end of the thirteenth century we find that a certain Messer Pepone, a native of the castle, was the owner and that the same, in 1296, sold it to the Buonsignori who came into effective possession after various contrasts and by intervention of the Podestà of Siena Uberto Rubaconte.

Shortly after the Buonsignori sold the castle to the Salimbeni who, almost immediately, gave it to Cardinal Riccardo Petroni. We owe to the Cardinal the completion of the buildings of the castle, the construction of the church of San Giovanni Battista and the donation to it of numerous relics.

The Palazzo del Comune also dates back to this period, although the statutes found are only from the year 1492. In fact, the Petroni family held possession of the "fiefdom" from 1303 to 1472 when Donna Alessandra, marrying Benedetto Martinozzi, brought it as a dowry to the Lords of Montelifrè.

Only in 1539 Benedetto del fu Giovanni di Benedetto Martinozzi sold the palace, the lands and the rights on San Giovanni d'Asso to Giulio Pannilini.

The Pannilini family kept it in possession until the beginning of the last century. The building of the castle passed, during the twentieth century, into the hands of various private individuals until the Municipality of San Giovanni bought it, for about half of the volume, in 1990 and oversaw its restoration.
STAY

NEARBY
DINING & ENTERTAINMENT

NEARBY