> Home > What to visit > Churches and Monasteries
San Giuseppe Artigiano
Asciano
CHURCHES AND MONASTERIES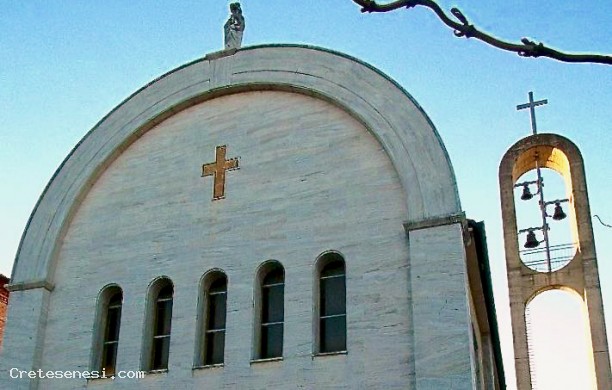 PHONE NUMBERS AND TIMES

San Giuseppe Artigiano


Business card (vCard)
The church is located in Asciano Scalo, along the SP 26 which connects Asciano with Rapolano Terme. The sacred building was built in the early 1960s in an area of recent urban development.

The interior has a rectangular hall and the facade, entirely covered in travertine, is crowned by a large semicircular pediment. Above the portal there is a small lunette surmounted by five very narrow mullioned windows; laterally it is framed by two pilasters which end in the pediment.

On the right side, we find a bell tower in exposed reinforced concrete leaning against the church.

Internally, the church with a rectangular hall has a completely plastered surface, interspersed with two brick arches and the flooring is in travertine.

This church, designed by the surveyor Aldo Celi, was built by the will of the proposed Angiolo Sadotti, and was inaugurated by the Bishop of Arezzo, Msgr. Telesforo Giovanni Cioli, in 1962.
STAY

NEARBY
DINING & ENTERTAINMENT

NEARBY