> Home > What to visit > Churches and Monasteries
Sant'Antonio Abate, Oratorio della Misericordia
San Giovanni d'Asso
CHURCHES AND MONASTERIES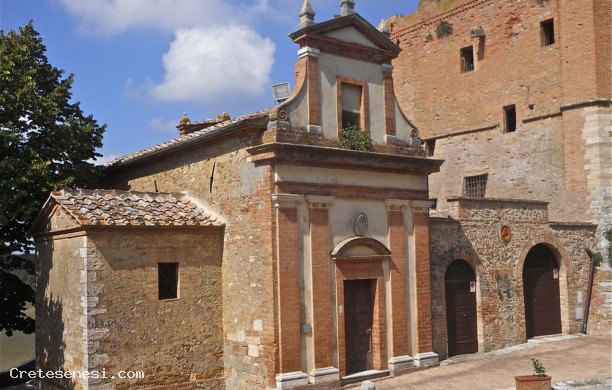 PHONE NUMBERS AND TIMES

Sant'Antonio Abate, Oratorio della Misericordia


Business card (vCard)
The Misericordia church, dedicated to St. Anthony the Abbot, named after the lay confraternity, founded in 1854, which constitutes the oratorio.

The current building, located opposite the parish church of San Giovanni Battista, was built in 1854 by the then parish priest Girolamo Marsili in place of an older chapel, just as the seat of the new brotherhood.

The church, in neoclassic style, it has a sleek exterior facade, characterized by the alternation of two colors originated decorative red brick to plaster clear of the wall; at the bottom, between two pairs of pilasters, opens the portal, surmounted by the coat of arms of the brotherhood, while in the upper, slightly narrower than the previous one, and the latter through two radiused side scrolls, there is a rectangular window.

The interior has a nave of three bays, covered with a barrel vault and ending with a polygonal apse, in which there is the altar in stucco painted to resemble marble, with behind him a niche containing the statue the saint to whom the chapel is dedicated.
STAY

NEARBY
DINING & ENTERTAINMENT

NEARBY