> Home > What to visit > Churches and Monasteries
Santa Maria in Ferrata
Rapolano Terme
CHURCHES AND MONASTERIES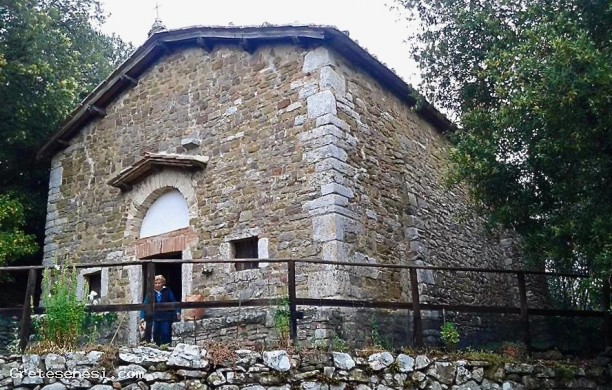 PHONE NUMBERS AND TIMES

Santa Maria in Ferrata
53040 Rapolano Terme, Poggio Santa Cecilia



Business card (vCard)
The church of Santa Maria in Ferrata, also called "the Madonna Ferrata" is a church located near Poggio Santa Cecilia.

In this church you reach following the signs to the farm "La Palazzetta" just before the climb to Poggio Santa Cecilia. Passed the farm continue on a steep trail for about 250 m, on the right, between a thick forest and a magnificent view, until you find the beautiful church / shrine, built on a previous early Christian building.

The church, once a popular pilgrimage site, is in poor condition and suffers from neglect is facilitated by the lack of accessibility of the place. Part of the roof collapsed and the frescoes of the main altar are unfortunately exposed to the elements.

Tradition has it that two hunters, angry about an unsuccessful hunt, they saw the image of the Madonna in a tabernacle and foolishly, to vent their anger, they decided to take a shot.

Despite the blows, the face of the Madonna remained intact without any scratching. One of the hunters, incredulous and amazed, he exclaimed: "But what are you made of? Iron?". Also according to tradition, the Virgin would then replied: "Yes they are iron and Evil will never destroy me"; then he admonished the men who, appalled by the vision, were converted.

In memory of this episode was built the sanctuary, which was long the object of devotion and reached its peak after the restoration and the amendments effected by the cultured and aristocratic Countess Virginia Tadini-Buoninsegni, as noted by an inscription inside.

The Lady Ferrata, considered miraculous, was venerated by rapolanesi; in particular, at Easter, a big procession started from Poggio Santa Cecilia, and drew a large crowd of faithful who came, often on foot, from Rapolano and Serre carrying food and drink to comfort the long way. Until a few years ago vella church were visible numerous votive offerings on the walls.
STAY

NEARBY
DINING & ENTERTAINMENT

NEARBY