> Home > What to visit > Castles
Torre di Guardia di Monte Oliveto Maggiore
Asciano
CASTLES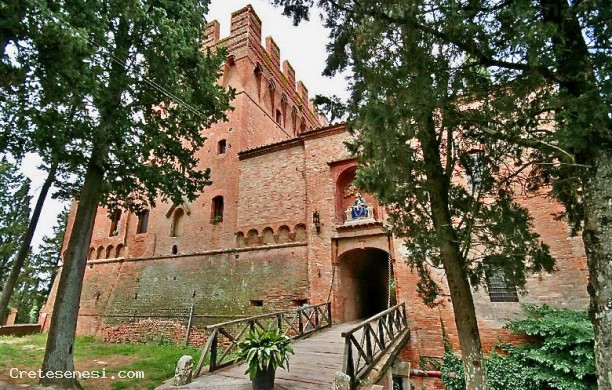 PHONE NUMBERS AND TIMES

Torre di Guardia di Monte Oliveto Maggiore
Loc. Monte Oliveto Maggiore



Business card (vCard)
Monte Oliveto was, around 1300, a place lost in the gullies and subject to continuous landslides; located not far from the small village of Chiusure, but reachable only on foot through a barren countryside, dotted with shrubs and gorse.

Precisely for this reason, Bernardo Tolomei chose it as a place of hermitage and meditation. Emulated by some Sienese companions, Bernardo managed, in a few years, to establish a monastic congregation and to begin the construction of the present Abbey.

Despite the natural difficulties to reach the Monastery, in 1393 the construction of a sturdy building was begun to defend the only access passage. The construction of the building, as we see it today: a watchtower with a moat and a drawbridge, a fortified palace that barred the short strip of land on the right side of the same, followed by an overhang. The construction ended much later, in 1526 and guaranteed a valid defense against unwelcome incursions by armies in transit.

Above the entrance arch of the Tower, reached by crossing the drawbridge, there is a glazed terracotta depicting the Madonna and Child surrounded by two angels, attributed to the Della Robbia. Also above the access door, but on the opposite side, there is another large terracotta depicting Saint Benedict blessing.

The structure, which presumably housed the guardhouse and any guests in transit, is now transformed into a characteristic Bar Restaurant.
STAY

NEARBY
DINING & ENTERTAINMENT

NEARBY