> Home > What to visit > Palaces and Monuments
Antica Farmacia
Asciano
PALACES AND MONUMENTS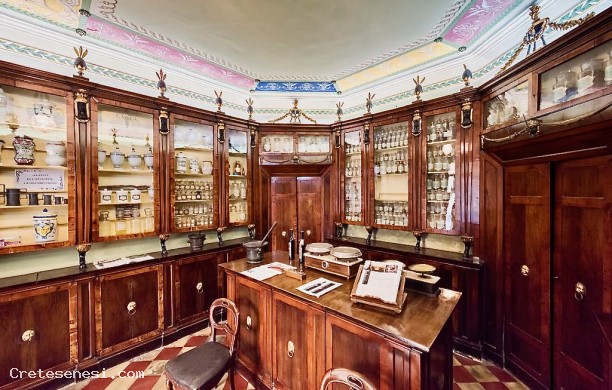 The old Pharmacy was founded in 1795 by the Francini Naldi family, which has always been rooted in the territory. Francesco Francini Naldi was the manager after having been licensed to practise his profession. After him the pharmacy has belonged to the Francini Naldi family and their heirs.
In 1830, the original pharmacy was restored, already furnished with elegant Empire-style wooden shelves in lacquered fine wood and decorated with ornamental gold. The restoration was carried out by the Baroni family, well-known Asciano artisans.
The current owner and manager, Dr. Giovanni De Munari at the time of the necessary modernization of the pharmacy, has deliberately avoided dismantling the existing structure, deciding to use an adjoining room for the new structures.

This praiseworthy decision, as well as showing great respect to its ancestors who have been working and living for over two centuries in this environment, nowadays have the opportunity to admire this wonderful example of Ancient Pharmacy.
STAY

NEARBY
DINING & ENTERTAINMENT

NEARBY