> Home > What to visit > Churches and Monasteries
Cappella dei Santi Fabiano e Sebastiano
Asciano
CHURCHES AND MONASTERIES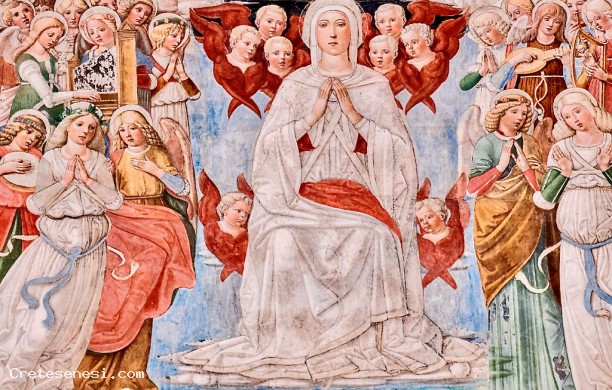 PHONE NUMBERS AND TIMES

Cappella dei Santi Fabiano e Sebastiano
Loc. Camparboli 53041 ASCIANO



Business card (vCard)
The chapel of Saints Fabiano and Sebastiano is a particular sacred building located in Camparboli in Asciano.

It is the most impressive road tabernacle in the whole Scialengo area. In the facade are still visible the traces of a buffered arch, a sign of the original function of public oratory, also underlined by the presence, on the fresco behind the altar and under the Assumption of the Virgin, of San Fabiano and San Sebastiano, patron saints against plague and epidemics.

The large fresco is the work of two artists: Benvenuto di Giovanni and Girolamo di Benvenuto, his son. The characteristic traces of the two painters are evident in the various parts of the painting made between 1491 and 1497.

Instead the three saints: San Girolamo, San Rocco and Santa Lucia, painted in fake newsstands on the wall to the right of the main altar, are the work of young students from the workshop of Benvenuto di Giovanni and are specifically dated 1497.

The current dimensions of the oratory make it possible to suspect a possible retreat of the facade, compared to the original structure, to make way for the new local road network, consolidated from the second decade of the fifteenth century.
STAY

NEARBY
DINING & ENTERTAINMENT

NEARBY