> Home > >
Crocifisso con la Vergine, San Francesco e Sant'Agata
Asciano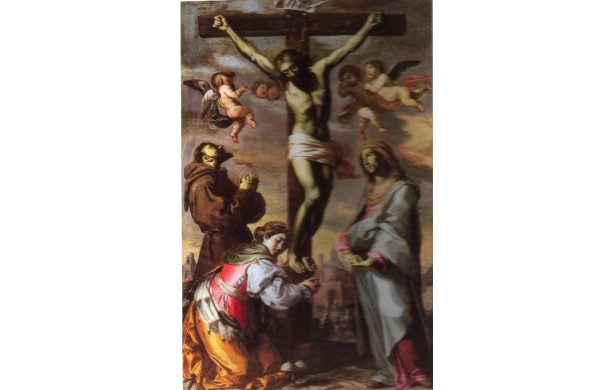 Artist: Bernardino Mei
Current location: Museo Civico Archeologico e d'Arte Sacra Palazzo Corboli
Original location: Oratorio della Compagnia di Santa Croce

DESCRIPTIVE INFORMATION
The painting was originally made ​​for the chapel of the Holy Cross of Asciano and thought in a complex series dedicated to the death and resurrection of Christ, it is a mature work of the greatest artist of the Baroque Siena. Work made for the altar of the oratory of the Society of St. Crocee documented still in place in 1780, during the pastoral visit of the Bishop of Arezzo, Marcacci. the painting was originally assigned to the Romagnoli Rutilio Manetti ocomunque made ​​by someone from his school. Recently, the superintendent of Siena Cecilia Alessi proposed by the writer, Bernardino Mei, a pupil and collaborator of the Manetti less to equip ¬ son Domenico. The canvas, can be placed in the activity of mature Bernardino, stands as the real stylistic connection between the more modest and conventional altarpieces and the extraordinary production of paintings "chamber", usually biblical or mythological subjects, which char ¬ terizzò the last years of the Sienese painter before his departure for Rome which took place in 1657. Description by Cecilia Alessi (1994). Oil on canvas, 230x141 cm.
Crocifisso con la Vergine, San Francesco e Sant'Agata