> Home > What to visit > Museums
Museo Civico Archeologico e d'Arte Sacra Palazzo Corboli
Asciano
MUSEUMS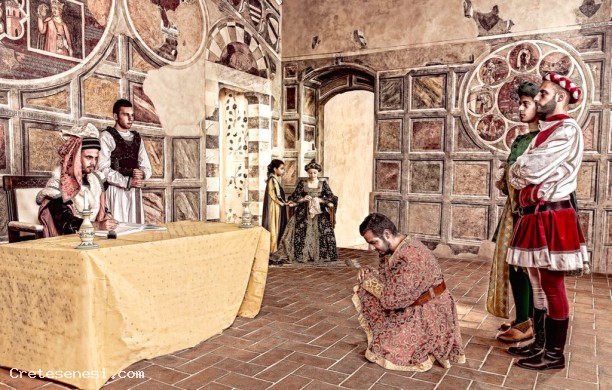 PHONE NUMBERS AND TIMES

Museo Civico Archeologico e d'Arte Sacra Palazzo Corboli
corso matteotti, 122 Asciano (SI) - 53100

Telephone 0577 719524 / 0577 719510


Business card (vCard)
ORARI DI APERTURA E VISITA:
from Wednesday to Sunday from 10 to 13 and from 15 to 19; closed on Mondays and Tuesdays.
TICKETS: Full € 5,00; Reduced € 3.00

Once a complicated restoration of the old Palace had been completed, the Casa Corboli Museum opened in 2002 to exhibit the collections of two smaller, separate museums, the Etruscan Museum and the Sacred Art Museum. Works produced by the greatest Sienese artists from the 14th to the 16th centuries: Ambrogio Lorenzetii, the Maestro dell'Osservanza, Matteo di Giovanni, Rutilio Manetti, as well as precious wooden sculptures by Giovanni Pisano and Francesco Valdambrino-are exhibited on the ground and first floors.
The second floor is devoted to archeological findings coming from the upper valley of the Ombrone. Among these are objects discovered in the Poggione necropolis: ivory pieces and bucchero spools, the grave goods of the Mulinello tomb, with rare examples of ancient sculpture and metal objects, and finally the reconstruction of the tombs of Poggio Pinci, dating from 5th to the 1st century BC, with urns in travertine and tuff, red-figure ceramics, bronze vases, mirrors, and jewelery .
On the other hand, the section of the Sacred Art, with its great works from the Sienese school, is an evidence of local political and religious history. In medieval times Asciano became a real economic center that attracted rich merchant families from Siena. A few rooms in the old palace that now houses the museum are particularly interesting because of their paintings of political and ethical subjects going back to the second half of the 14th century. There is a also a remarkable collection of ceramics, jewelry, plus ecclesiastical vestments, chalices, and church ornaments.
STAY

NEARBY
DINING & ENTERTAINMENT

NEARBY