> Home > What to visit > Palaces and Monuments
Ex convento di San Galgano
Asciano
PALACES AND MONUMENTS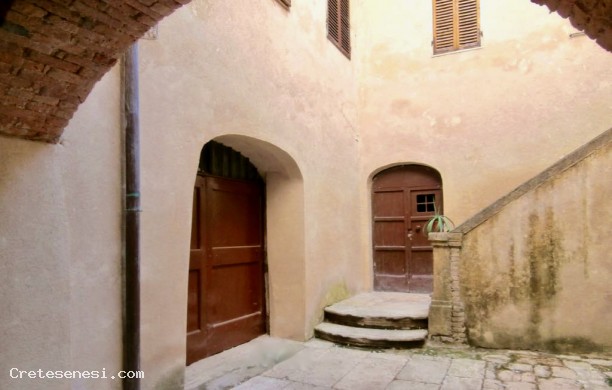 PHONE NUMBERS AND TIMES

Ex convento di San Galgano
v. Amos Cassioli 53041 ASCIANO



Business card (vCard)
ORARI DI APERTURA E VISITA:
Non-visitable civilian housing

Heirs of the Benedictine tradition, the monks of San Galgano managed many local properties, both land and houses, as well as the nearby Grancia (Granary) of the Palazzo Monaci. It was no accident that their little monastery was just off the Piazza del Grano (Grain Square), quite the right place for dealing in wheat and flour. Their establishment, according to town documents dating back to the 4th century, was certainly linked, as in Siena, to their expertise in matters of aqueducts and hydraulic systems for mills.
Their initial settlement in the territory of Asciano dates back to 1265, but the most striking historical trace that witnesses to the important presence is represented by the stone still existing at the entrance of the former monastery.
This travertine artifact confirms the extension and renovation of the convent by Antonio, Padre Abate of San Galgano in 1486, a time of great ferment and growth of the country.

Many buildings near or adjacent to the former convent still lay in their facade, the coat of arms of the Cistercians of San Galgano, witnessing the many properties acquired over time.

It is perhaps not wrong to think that in addition to the activity related to grain storage and storage, in this historic period the monks were also involved in the construction of hydraulic structures necessary to feed the many ceramic manufactures present in the Coil and Copper, For dough and clay processing.

STAY

NEARBY
DINING & ENTERTAINMENT

NEARBY