> Home > What to visit > Fountains
Fonti Lavatoie
Asciano
FOUNTAINS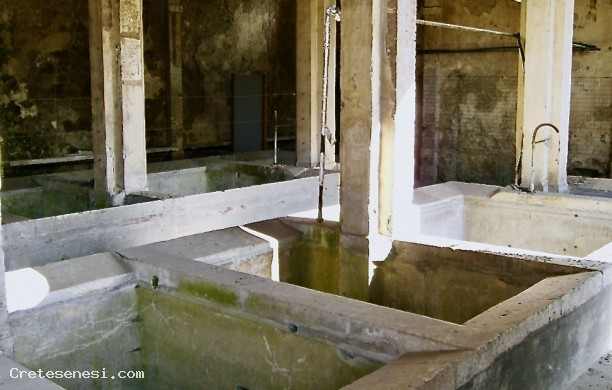 This late nineteenth-century building, restored many times over, helps keep recent history alive. In fact, up until the middle of the 1950s, it was a daily meeting place for the women of the town who gathered there to do their laundry. It was built by knocking down a length of wall that covered a direct passageway between the old market gate and the ground floor of the Palazzo del Podestà.
Its realization and the design tactics adopted, denotes an uncommon social sensitivity from the local administrative bodies of the time. In fact, there are no sources of washers of this type and size in surrounding locations.

As said, the building was made by demolishing part of the 15th-century wall of the village to place it in a location closest to the popular neighborhood of the country where the houses were not served by private wells and even less than household pools to wash their clothes.

Its particular location allowed him a continuous and abundant supply of water from two different additions: that of the spring that fed the ancient washers of the Porticciola and that, through an underground canal, previously fed the "Mulino del Popolo di sopra", placed just off the demolished walls.

The abundance of water provided a constant flow of flux that, from a small initial decanting tank, rolled over the entire bathtub of connected tanks to ensure a good and effective replacement of the water used.
STAY

NEARBY
DINING & ENTERTAINMENT

NEARBY