> Home > Where to stay > Hotels
LA PACE
Asciano
HOTELS 3 STARS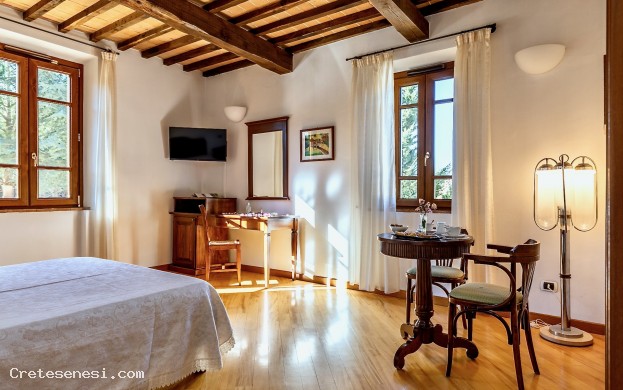 DO YOU WANT MORE INFORMATION?

Call our Call Center at
Tel. 0577 718629 - Fax

Website
www.hotellapace.net
SERVICES
ACCETTAZIONE ANIMALI DOMESTICI
GIOCHI PER BAMBINI
PISCINA SCOPERTA
SOMMINISTRAZIONE ALIMENTI
RISTORANTE
COLAZIONE IN CAMERA
CASSAFORTE O CASSETTE DI SICUREZZA
ACCESSO A INTERNET
SERVIZIO FAX
ARIA CONDIZIONATA
DISPONIBILIT└ BICI E BYKE
RISCALDAMENTO INVERNALE
ASCIUGA CAPELLI
SALA RITROVO E/O TV
PARCO O GIARDINO
STRUCTURE DESCRIPTION


The "La Pace" hotel is located in Asciano, a village in the heart of the Crete Senesi. Only a few kilometers away from Siena, this place shaped by history, nature and art inspired us to open our hotel, giving us the ideas to create an oasis of relaxation and relief from the everyday routine.
The welcoming softness of our hills has always been the starting point for our work, for the dedication and care we put towards our customers. Our mission is to make your stay a unique and unrepeatable experience, in direct connection with the history of the area and of our hotel.
The structure is in fact divided into two buildings: not far from "La Pace" is "Il Bersagliere", the "historic" part of our hotel complex. Inaugurated in 1989, the Bersagliere was recently renovated, adapting it to a more modern standard, with a target more oriented towards easy traveling and business.
The "La Pace" hotel is located in a mainly residential street and is only a few minutes' walk from the Asciano-Monte Oliveto Maggiore railway station. Here you will find a restaurant with a corner bar available to customers, a breakfast room and an internal garden. The structure is completely pet free.
If you are looking for a place of tranquility and relaxation, if you want to discover the ancient flavors of the Tuscan tradition and treat yourself to a holiday to immerse yourself in history, art and culture, we are waiting for you at the "La Pace" hotel: an exclusive stay, tailor-made for you.
The restaurant

History and tradition are an integral part of the soul of the "La Pace" hotel and our cuisine is no exception in this. The structure is in fact equipped with a restaurant open every day and the service is also aimed at those who are not guests of the hotel. So you can enjoy our dishes in the dining room, or, if the season permits, comfortably seated at the tables located in the garden.
Our cuisine draws inspiration from the traditional Tuscan one: the menu is in fact characterized by dishes made using typical local products. A sublime synthesis of ancient flavors and aromas, able to make you live a unique experience, the perfect culmination of your stay at the "La Pace" hotel.
Our restaurant is located in a large and finely furnished room, which also includes a breakfast room and a bar available to hotel guests.
We are waiting for you at the restaurant of the hotel "La Pace" to let you discover the food and wine wonders of our area, able to give even more "taste" to your trip.
ARCHITECTURE, ART

NEARBY
DINING & ENTERTAINMENT

NEARBY