> Home > >
Madonna col Bambino e Angeli
Asciano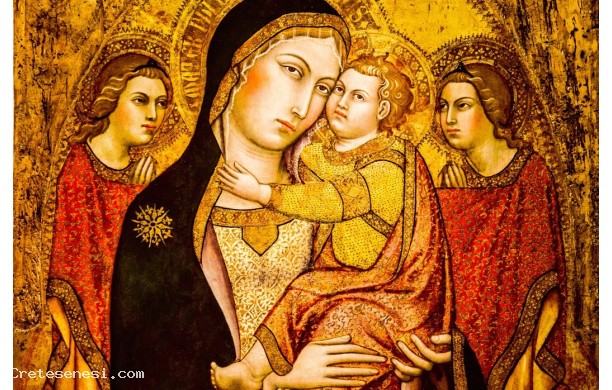 Artist: Taddeo di Bartolo
Current location: Museo Civico Archeologico e d'Arte Sacra Palazzo Corboli
Original location: Basilica Millenaria di S.Agata

DESCRIPTIVE INFORMATION

Tempera on table 169x85.5
Inserted at the center of a polyptych reassembled in 1952 on the occasion of the opening of the old Museum of Sacred Art, on the recommendation of the scholar Enzo Carli, then director of the National Pinacoteca of Siena.
The meeting, within a wooden framework that attempted to reconstruct the original position, of various tables with a gold background, coming from the rooms annexed to the Collegiate Church of S. Agata, but undoubtedly constituting a single politic.
The central panel of this polyptych and depicting the I Madonna with Child, had been covered by a thick dark paint, under which, during the restoration, two figures of Angels surfaced almost intact.
The polyptych is probably a late work by Taddeo di Bartolo, to whom Perkins already attributed the central panel, in collaboration with another master perhaps identifiable with Andrea di Bartolo, author of the side panels.
Enzo Carli, Art Bulletin No. 17 pp 83-85
Madonna col Bambino e Angeli