> Home > >
Madonna col Bambino
Asciano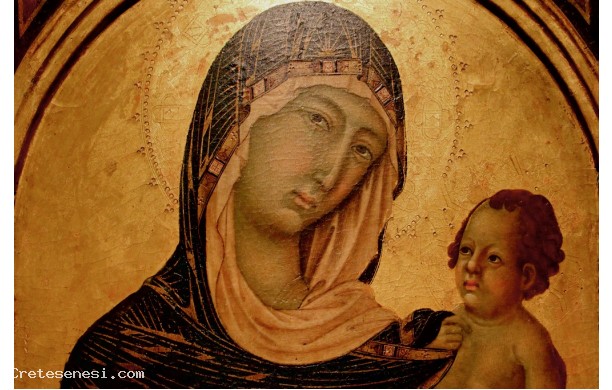 Artist: Segna di Bonaventura
Current location: Museo Civico Archeologico e d'Arte Sacra Palazzo Corboli
Original location: Basilica Millenaria di S.Agata

DESCRIPTIVE INFORMATION

Tempering on table 65x48 cm.
This small table that we do not know if it comes from a polyptych or is a work in itself, was made in the first decade of 1300 by Segna di Bonaventura. However, it is certain that, prior to its musealization, it was located inside the Basilica of Sant'Agata.
His typical Duccesque stylistic features had mistakenly been attributed to the great patriarch of the Sienese school. Only recently, with the discovery of the many works by Segna, Duccio's nephew, has the attribution been revised.
Madonna col Bambino