> Home > What to visit > Old Town
Lucignano d'Arbia
Monteroni d'Arbia
OLD TOWN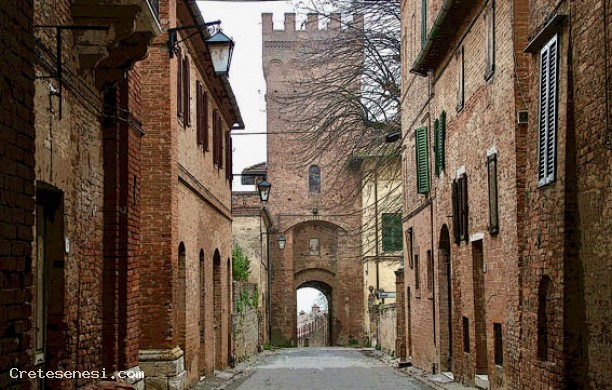 At the beginning of 1000, the Guiglieschi Counts exercised control over the hill of Lucignano as well as being the owners of a large area of ​​the Val d'Arbia including the Castles of Bibbiano and Castelnuovo Tancredi. These nobles, however, soon entered into conflict with the Municipality of Siena for their desire to build a castle on the hill.
In 1186 Guitto Guiglieschi began, despite the disagreements with the city, to have a fortress built in Lucignano, unleashing the ire of the Bishop of Siena who, with the parish church and his possessions, blindly held a third of the local properties.

Even the Municipality of Siena, thanks to a privilege of Barbarossa dated 29 November 1153, which prohibited the construction of castles in the surroundings of the city for a minimum radius of twelve miles from it, appealed to the Royal Chamber.

On 22 October 1186, this Idone, Royal Judge, ruled that the Guillieschi Counts had no right to build the fortress, as a third of the hill belonged to the Bishop and, moreover, the provision issued by Barbarossa in 1153 was still in force.

Three days later, the sentence was ratified by Henry VI, son of the Emperor Federigo. The imperial edict ordered the complete demolition of what had already been built.

In reality, the Guillieschi Counts continued to fortify Lucignano until, in 1270, the castle of Lucignano was definitively included in the Sienese countryside.

In 1409 Lucignano endowed itself with its own "Statute" of which a copy is still preserved in the State Archives of Siena. In 1474, the local Consistory ordered to make other walls, also indicating their dimensions "usque ad cannas quinquaginta muri de muris castellanis dicti loci ": the inhabitants would have participated with three lire for each" cane ", deducting this sum from the must tax.

In 1809 the Comunello di Lucignano was incorporated into that of Monteroni. Even today Lucignano retains the two access doors to the castle: the Sienese and the Roman, but not only.

The village has largely remained intact and are still visible: part of a watchtower, a medieval well, various coats of arms and inscriptions and the magnificent Romanesque parish church of S. Giovanni, with a very particular bell gable.
STAY

NEARBY
DINING & ENTERTAINMENT

NEARBY