> Home > What to visit > Churches and Monasteries
Sant'Angelo
Monteroni d'Arbia
CHURCHES AND MONASTERIES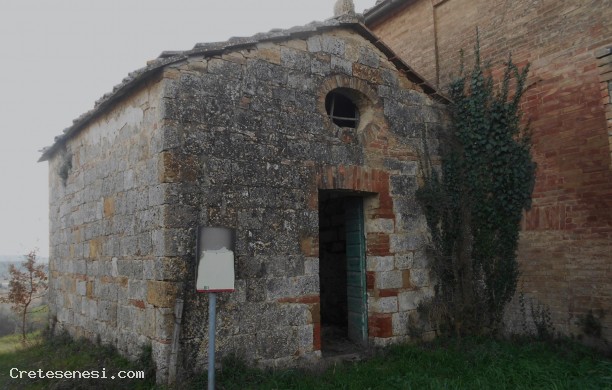 The church of Sant'Angelo is located along the white road of Medane which from Lauretana, near Arbia, cuts the Crete Senesi descending to Monteroni, passing next to the ruined rural complex of Ponzano.
Location where the forgotten chesina of Sant'Angelo is located. The remains of this small church, now deconsecrated, are inserted in a rural complex which is believed to have existed already at the end of the thirteenth century.
The structure in stone blocks, mixed with bricks, testifies to the ancient origin of the building.
Unfortunately, time, neglect and the consequent abandonment have handed down only the ruin of this religious structure that peasant devotion had allowed it to be built and maintained for centuries.
The door is unhinged, the roof appears to be broken down especially on the left side, a beam dangles dangerously above the remains of what was supposed to be a wooden altar.
There is no longer any trace of the furnishings and even the floor, at first glance, seems to have been largely removed.
STAY

NEARBY
DINING & ENTERTAINMENT

NEARBY