> Home > What to visit > Palaces and Monuments
Monumento ai Caduti
Monteroni d'Arbia
PALACES AND MONUMENTS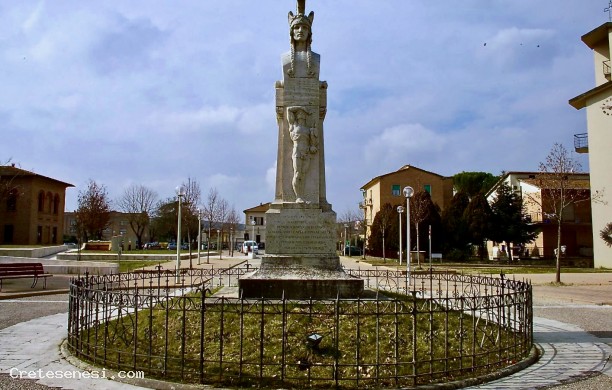 PHONE NUMBERS AND TIMES

Monumento ai Caduti
Piazza Calamandrei



Business card (vCard)
The Fallen of the Great War:

Andreini Bramante
Andreini Cesare
Andreini Giulio
Andreini Mario
Aurigi Mariano
Barabesi Bramante
Bari Giulio
Benedetti Guglielmo
Benocci Sabatino
Betti Amedeo
Betti Vittorio
Bichi Amedeo
Bindi Giulio
Boccini Pietro
Borghi Alberto
Brogi Adam
Brogi Dante
Anselmo ravines
Calzoni Giulio
Ottavio cannons
Cannucci Carlo
Cannucci Corrado
capaccioli celso
Cappelli Giulio
Hats Oreste
Carnicelli Guido
Casini Pietro
Cerretani Livio
Chiantini Amedeo
Chianti Gino
Chiarucci Angelo
Chiarucci Constantine
Ciacci Francesco
Ciani Dante
Cioni Olinto
Cocci Oreste
Correcci Eugenio
Cresti Ettore
Fariani Agostino
Faleri Eugenio
Faleri Santi was Ad.
Faleri Santi was Gasp.
Furi Egisto
Gabbrielli Carlo
Gabbrielli Gino
Guidi Giuseppe
Lippi Bernardino
Lippo Igino
Lombardini Vittorio
Lorenzetti Primo
Lorenzini Luigi
Lorenzini Nello
Losi Enrico
Malfetti Giorgio
Mari Giacomo
Mari Michele
Martelli Oreste
Marzucchi Dante
Marzucchi Gino
Marzucchi Nello
Marzucchi Pietro
Marzucchi Saverio
Mazzeschi Carlo
Mazzeschi Olinto
Micheli Fortunato
Minucci Adamo
Minucci Cesare
Monks Attilio
Monks Riccardo
Monciatti Elisha
Mori Emilio
Mori Giovacchino
Nardi Luigi
Pacciani Pietro
Pacenti Olinto
Pasqui Cesare
Pedani Alesandro
Pepi Giuseppe
Perugini Emilio
Perugini Sabatino
Pianigiani Desiderio
Pianigiani Emilio
Pianigiani Giuseppe
Pinassi Giuseppe
Poggialini Sabatino
Quercioli Giulio
Quercioli Guido
Rabissi Artemio
Rocchi Eugenio
Rosi Alfredo
Rossi Giovanni
Rossi Nello
Ferdinand Ruberti
Sampieri Amedeo
Artemio Sampieri
Sampieri Nello
Santucci Faustino
Santucci Leopoldo
Santucci Sabatino
Sassetti Paolino
Semboli Primo
Sabugnino sprats
Terzuoli Agostino
Tognazzi Costantino
Tognazzi Luigi
Vaselli Amerigo
Vaselli Assunto
Vaselli Martino
Vigni Eliseo
Vigni Giovanni
Vigni Nello
Volpi Carlo
Volpi Secondo.
STAY

NEARBY
DINING & ENTERTAINMENT

NEARBY